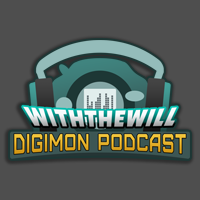 00:00:00
With a bit of post tri. Part 6 slowdown we have a nice stack of upcoming products to go over, including a few nice Angewomon figures!


News
Capsule Mascots Series 3 Previews from V-Jump
New Patamon Crane Game Plush and Ichiban Kuji Vote Winner
Digicolle Series 2 Rerelease in August
2nd Wave of 20th Anniversary Pendulums Announced- Dukemon and Beelzebumon Colors

MegaHobby Expo 2018 Spring!- Various Digimon products on display at the expo. They announced a rerelease of DigiColle Series 3 plus showed off prototypes for Capsule Mascots Series 4.
GEM Angewomon Holy Arrow Version! The next GEM figure was also announced at MegaHobby Expo, and it looks spectacular.

ReArise Updates! We have cast details plus info about Erismon's evolutions from V-Jump.
Updates on Twitter Campaigns for ReArise and Namco

Butter-Fly -tri. Version LE Scans and Breakdown
Show You My Brave Hearts Vol. 3 Products Announced
Final Day Event for Akihabara tri. Music Cafe- AiM and Ayumi Miyazaki as guests, a special bento menu, and a bonus item!

New Battle Spirits sets are Out! We have images of all the cards from both the Our Digimon Adventure booster set and the Chosen Children Starter Deck.
CSA Digivice tri. Memorial Details! Bandai shows off some new CSA Digivice details in MonMon Memo.
Digivolving Spirits AtlurKabuterimon and Alphamon Previews- Alphamon Box and AtlurKabuterimon Prototype and an AtlurKabuterimon preview with director Kakudou, Kenji Watanabe, and Target Nishizawa.

Digivolving Spirits 04 Angewomon- Breakdown, Scans, and Photos
More Digivolving Spirits Angewomon previews! Photos and Details and yet more photos, details, and a transformation video.

tri. Art in Animedia and Newtype. Including the sixth (and final?) tri. tribute image from Sota Kuwahara.
tri. Part 6 Screening with Crew and Mimi Live Commentary! Hitomi Yoshida, director Keitaro Motonaga, Kenji Watanabe, and producer Yosuke Kinoshita all did a live commentary for tri. Part 6 at the Wald 9! Twitter user Narqissa shared some of the details.
tri. Part 6's theatrical run has been extended to a fourth week. And a new theater gift drawn by Kenji Watanabe! Plus tri. Part 6 has been #1 on the Mini-Theater Charts for 3 weeks!

tri. Part 5 Blu-ray and DVD up for pre-order! It's out August 7th. The UK release has also been announced! They say July 30th, but we aren't sure...


tri. Part 5 was in US theaters! What did we think of the dub? The extras?




After the news we do some small follow ups on topics from the last few episodes and take questions from the audience!

Plus a suprise, going over some of the interesting questions Tamashii asked as part of the Digivolving Spirits Angewomon questionnaire.



You can support With the Will on Patreon and chat with us on Discord!


Marc can be found at With the Will.

A.R. can be found at Digimon: System Restore. A.R. will be hosting a panel at Kitsunekon in July!

May can be found at LostinTranslationmon.



The podcast audio is the livestream clipped out, with an intro and outtro added, along with some tweaking to try and improve audio quality.


This episode was recorded on May 26th, 2018.


Questions for future episodes can be sent to podcast@withthewill.net.


We can be found on iTunes, Google Play, and most podcasting apps (feel free to suggest one if you don't see us there.)


Just below is a Youtube embed of the full livestream:


Let us know what you think of the image overlays for the news.


Thanks

We appreciate you guys listening and your feedback. Let us know what you think about the newest episode.

Big thanks to our Patreon supporters: Jacob, Fly, Steven, Will, Marcos, Yan, nskiver, Timo, Ken, CF, Haniff, Rydan, Julia, Jennifer, Timothy, Joe, and Lizmet.



Our intro and outtro song is 'Version Up', sung by Umi Tenjin in character as Koushiro from Digimon Adventure.

The site, logo, custom art, and HTML5 player was made by lost.