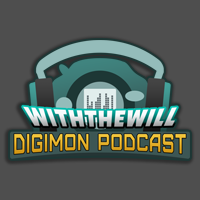 00:00:00
With tri. Part 6 coming out there is a bunch of news to discuss. A lot of pop-up shops, special menu items, and other fun things to talk about. Not to mention the new Digimon Tamers audio drama!

Due to a blizzard in AR's area, his audio quality is a bit iffy early in the show. He was able to fix it, but you'll hear his son in the background later during the show and May had iffy internet for a minute or two in the middle of the episode.


News
Wada Kouji Passed 2 Years Ago- Some nice messages and photos from Digimon staff.
April Fools 2018- Sukamon Adventure tri, Bikkuraman Day, anda Pusurimon Plush
Zero-Two, Tamers, Frontier, and Savers Anniversaries!
Digimon the Movies, Adventure, and 02 Blu-ray Boxes Scans and Screencaps Added to Gallery
German Adventure Blu-ray Update- The video is what we expected.

Bandai Explains Hackmon's Name! Plus all his evolutions!
Capsule Mascot Collection Series 3 and DigiColle 1 Re-Release. plus some fantastic photos of the upcoming Precious GEM figures.
Digivolving Spirits #06 is AtlurKabuterimon! Plus the Diablomon Festival is ending soon.
Digivolving Spirits 03 Diablomon- Breakdown, Scans, and Photos
Tamashii Nations Corporate Changes. Not much to worry about.
Premium Bandai Survey. Some interesting things to think about.
Battle Spirits Art Updates- Card Set Promo Images and Packaging and Our first look at some cards!
An Erismon Plush! Plus some Erismon Details! Plus some details about the world of ReArise.

The Future is Now, Single Breakdown and Scans. Plus the Music Video
Upcoming Amatsuki and Straightener Albums Feature Digimon Themes

tri. Stage Play DVD Talk and Meet Event in April
tri. Producer Atsushi Suzuki Given New Role at Toei. He'll be running a new department with a focus on Dragon Ball.
Various Small Updates- Crane game prize and a Namco Twitter campaign. Plus the AGUMON CAR!

Digimon Adventure tri. Part 4 US Blu-ray Breakdown! Scans and Screencaps! We have an early look at the newest Digimon Blu-ray!
tri. Part 5 Digest Released
Help With Watching Digimon Adventure tri. Part 6 your TV

tri. Part 6 Preview Screenings Begin. Watch out for spoilers on social media. Plus details of a post screening cast livestream! And there will be a fun special screening event with live commentary soon.
tri. Part 6 Theatrical Goods Announced! Some interesting products.
tri. Art from May Animedia Yamato and Sora reaching for goggles.
tri. Part 6 returns to King of System Karaoke. Just the exclusive products for now.
tri. Part 6 Cover Art Update! The covers to the new version of Butter-Fly and the theater version Blu-ray both look fantastic!
Preview of a tri. Part 6 Home Video Extra, Plus Release Details
tri. Part 6 Tokuban and Theater Gifts Announced! Tokuban is April 27th!

tri. Music Cafe in Ani-On Station Final Party Details! Plus the drink menu and part 1 food menu! Plus the exclusive products!
tri. Limited Time Shop at Shinjuku Marui Annex. A fun and small pop-up shop!
Animate Cafe Digimon Kitchen Car Announced! And we already have the drink menu and exclusive merchandise! The key art is fantastic!
Fifth tri. Pop-Up Shop Announced! In Ikebukuro and Osaka between April 28th and May 30th! We already have a look at the exclusive products!

Digimon Thanksgiving 2018 Announced! A replacement for DigiFes? What announcements could we get?

Digimon Tamers BD-Box! Scans, Screencaps, & Discussion! & Audio Drama Translation!



Our topic this week, on top of talking about the Digimon Tamers audio drama, is discussing what our non-Digimon hobbies are. By and large it turned into us discussing Digimon.


We also take a few questions from the audience!






You can support With the Will on Patreon and chat with us on Discord!



Marc can be found at With the Will

A.R. can be found at Digimon: System Restore.

May can be found at LostinTranslationmon



The podcast audio is the livestream clipped out, with an intro and outtro added, along with some tweaking to try and improve audio quality.


This episode was recorded on April 14th, 2018.


Questions for future episodes can be sent to podcast@withthewill.net.


We can be found on iTunes, Google Play, and most podcasting apps (feel free to suggest one if you don't see us there.)


Just below is a Youtube embed of the full livestream:


Let us know what you think of the image overlays for the news.


Thanks

We appreciate you guys listening and your feedback. Let us know what you think about the newest episode.

Big thanks to our Patreon supporters: Jacob, Fly, Steven, Will, Marcos, Yan, Robert, nskiver, Timo, Ken, CF, Haniff, Rydan, Julia, Jennifer, Timothy, Joe, Lizmet




Our intro and outtro song is 'Version Up', sung by Umi Tenjin in character as Koushiro from Digimon Adventure.

The site, logo, custom art, and HTML5 player was made by lost.