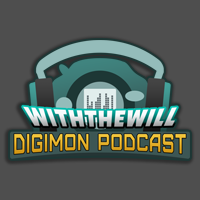 00:00:00
A bunch of news showed up in the last few weeks of 2017 so Marc and May play a game of catch up with the news. Lots of news, with a bunch of exciting Digimon Adventure tri. bits. And surprisingly, some of the news we won't get to take advantage of until the last few months of 2018.

After the news we go over our favorite stuff from 2017 and what we hope to see from 2018.


News
Tamers Blu-ray Box Updates
Behind the Scenes of recording for the Audio Drama
Episode 43 won the fan vote and will air on Tokyo MX
We have an image of the the fine board included with the Amazon Edition
Konaka and Kakudou have been talking on Twitter quite a bit

Hacker's Memory has been released in Japan!
Famitsu Score is a very good 35/40
There was a livestream for the launch of the game
Extended trailer with English subtitles
Twitter Campaign for 4 new Digimon
New Story Game being worked on
Hacker's Memory Digimon 20th Anniversary Box and Art Book Breakdown and Scans

New Digimon for 20th Pendulums. Rudomon!
More early Adventure products at Comiket
Adventure Charms at Princess Cafe chain
Preview of Digivolving Spirits Angewomon! Plus a big statue of WarGreymon!

Various Returning Items at Premium Bandai
Digimon Story Exhibition items and Omegamon Watch
20th V-Pet, 15th D-Ark, and Tamers 15th Card Set via lotto
The various DigiFes CDs were available again, but they appear to already be sold out.
Show You My Brave Hearts Volume 3 Announced! Plus Volume 1 and 2 Products on Sale again!
The Digimon Song Christmas Special was held! They had exclusive can badges and we have some photos of the event!

tri. Stage Play Breakdown, Scans, and Screencaps
tri. Stage Play will air on TV in Japan

New Year's tri. art in Animedia and new Movie 2 and Appmon art in 2018 Toei Calendars

Appmon Ranks 8th in Preliminary TAAF 2018 Fan Vote plus a few other anime polls

tri. Part 6 Trailer and Synopsis, plus some new art
Jump Festa 2018!
Exclusive Postcard
Pop-Up Shop Products on Sale
Photos
GEM WarGreymon and MetalGarurumon figures in color at Jump Festa!

Digimon in January Akibento Subscription Box
Disney Purchasing 20th Century Fox

tri. Part 3 US Blu-ray Breakdown, Scans, and Screencaps
tri. Part 3 Announced for Australia! 2 weeks after tri. Part 2.
New Places to watch tri. in English!
Hoopla- Free library service. Has tri. Parts 1, 2, and 3
Steam- Renting and buying digitally. Has tri. Parts 1, 2, and 3.
Starz- Part 1 airing on Starz Kids and Family in January. On Starz on Demand and Apps now.
Theatrical run announced for tri. Parts 4, 5, and 6 in the US!
Part 4 on February 1st. Includes recap of parts 1 thru 3 and an interview with Joshua Seth
Part 5 on May 10th
Part 6 on September 20th. Renamed from Our Future to Future



After the news we move on to our main topic of discussion for this episode, which is discussing some of our favorite stories from 2017, not to mention the stuff we hope for (both reasonable and unreasonable) in 2018.


After that we take some great questions from the fans who showed up to our livestream, along with a few questions that were sent in ahead of time.



You can support With the Will on Patreon and chat with us on Discord!



Marc can be found at With the Will

May can be found at LostinTranslationmon

A.R. can be found at Digimon: System Restore



The podcast audio is the livestream clipped out.


This episode was recorded on December 30th, 2017.


Questions for future episodes can be sent to podcast@withthewill.net.


We can be found on iTunes, Google Play, and most podcasting apps (feel free to suggest one if you don't see us there.)


Just below is a Youtube embed of the full livestream:


Let us know what you think of the image overlays for the news.


Thanks

We appreciate you guys listening and your feedback. Let us know what you think about the newest episode.

Big thanks to our Patreon supporters: Fly, Will, Marcos, Jacob, Yan, Robert, Timo, Ken, Haniff, Rydan, Julia, Jennifer, Timothy, and Joe.


Our intro and outtro song is 'Version Up', sung by Umi Tenjin in character as Koushiro from Digimon Adventure.

The site, logo, custom art, and HTML5 player was made by lost.