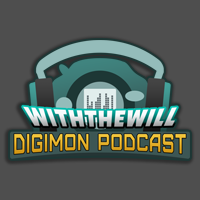 00:00:00
The new movie is out in Japan, but not the rest of the world, so spoiler free in this episode! We talk about the movie prequel short 'To Sora' along with all the mass of products and collaborations that are happening in the world of Digimon! We also talk about the brand new version of With the Will!

News
Kizuna is out in Japan!
Early news from preview screenings.
Final trailer
Some commercials
New evolutions appeared in an ad
Australia and New Zealand releases were announced
Info from V-Jump
Some Eosmon art
Cast screening from a photo, and some more things

With the Will has been relaunched and is shiny and new!

To Sora- The first Digimon Memorial Short is a prequel to the movie. It's up subtitled now!

Kizuna Media Cover:
Magazine artwork and info
Translations from Animage
Early screening coverage
AiM was on Masako Nozawa's radio show
Newtype art and a print
Anige Eleven had a few Digimon guests on

Kizuna Theater Gifts- Those that see the movie in Japan get some very nice looking clear files.

Music News and Updates:
Digimon CD Displays & What Lies Ahead CD Cover
Music Video for Even if We're Apart from AiM
tri. Best Hit Parade CD next month

Various Products:
A water bottle featuring classic Adventure art
A Koushiro document case plus some interesting Digimon wall lamps
The Wormmon plush is up to order!
Wave 2 V-Pet Pre-orders!
MetalGarurumon model kit details
Official Candy, plus more of that MetalGreymon
The Super Metallic Posters are out.
CSA Digivice Last Evolution is up to order! Not to mention a packaging look from MonMon Memo.
A mass of Kizuna products!
Products using the Kizuna CD Covers

Battle Spirits Digimon Last Evolution- We have all the shiny new card art!

Digimon Card Game Updates:
Promo Art
Pre-Orders
Art
More art
Yet more art
Art from V-Jump
Youtube opens, promo video put up plus how to get the 0.0 cards

Card game information threads from Touya:
Starer Decks 1, 2, and 3
Booster Set 1

The Leadup continues:
Week 26- Samurai Troopers/Ronin Warriors
Week 27- Gundam NT
Week 28- Interviews with Monster Girls
Week 29- Dragon Quest: Your Story & Ni no Kuni

Official Digimon Art from social media:
Snow Festival
Valentines Day
Good luck!
Watching a movie

Clean versions of Animate Kizuna Artwork
Concession stand gifts at theaters include the Animate art, plus some new art

The Sanrio Collaboration was announced a few weeks ago and products are available now.

The Meeting Cafe at Ani-On Station for Kizuan is open!
We are involved in a giveaway for 2 of the Ani-On Station Acrylic Stands. It ends Monday.

Kizuna is collaborating with streetwear brand Vanquish
Kiddy Land is doing another Digimon event! Some plushies are also out early! Plus a bunch of old ones are being rereleased!
The Kizuna Escape Room has opened!
Plus Karaoke!

Limited Base is doing a few Kizuna pop-up stores, including one at the Pop-Up Theater showing the 2nd Memorial Short!

Attack of the collaborations and events! There is so many things happening we only had limited time to go over a bunch of them!:
Kichijoji Parco Goods Shop- Old product overstock and reprints!
Idolmaster Starlight Stage- The mobile game has added a bunch of Digimon content!
Kizuna Theater Drink & Cafes- Theaters are serving an exclusive Kizuna themed drinks, and a few have themed their cafe after the movie.
The Toei Museum has added a Kizuna Exhibition! And some more
Old Music Campaign featuring Adventure, tri., and Kizuna art
Theater standeesand more images of them.
Ohatsutenjin Urasando gourmet street is running a Digimon promo with an exclusive sticker.
Tokyu Hands has exlcusive Kizuna merchandise
The Digimon Kitchen Car is giving away postcards with the memorial artwork.
Theaters have a bunch of Kizuna products! They are also being sold online. We also get some updates about the new Digimon Card Premium Edition sets.
Anrakutei BBQ has a few different Digimon menu specials, plus stickers.
Lawson has their own exclusive merchandise with some fun SD artwork!

We have images of GEM MetalGreymon in color! The paint job on the figure is very impressive.




We finish with some questions from the audience.



You can support With the Will on Patreon or Paypal and chat with us on Discord!



Marc can be found at With the Will.

A.R. can be found at Digimon: System Restore.

May can be found at LostinTranslationmon.


The podcast audio is the livestream clipped out, with an intro and outtro added, along with some tweaking to try and improve audio quality.


This episode was recorded on February 22nd, 2020.


Questions for future episodes can be sent to podcast@withthewill.net.


We can be found on iTunes, Google Podcasts, and most podcasting apps (feel free to suggest one if you don't see us there.)


Just below is a Youtube embed of the full livestream:


Let us know what you think of the image overlays for the news.


Thanks

We appreciate you guys listening and your feedback. Let us know what you think about the newest episode.

Big thanks to our Patreon supporters: Jacob, Fly, AguChamp, Steven, Marcos, Kite, Lizmet, Ken, Timo, Kryat, tofumon, CF, Jennifer, Timothy, Joe, and Julia.



Our intro and outtro song is 'Version Up', sung by Umi Tenjin in character as Koushiro from Digimon Adventure.

The site, logo, custom art, and HTML5 player was made by lost.