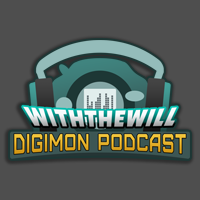 00:00:00
The hiatus is over and we talk about Digimon Adventure: episode 4, Birdramon Soars! On top of that, Digimon turns 23 and we have a bunch of news to go over!


Digimon is 23 Years Old!
Hulu Adds Digimon Adventure: Simulcast


Digimon Adventure: Episode 4 - Birdramon Soars!
Discussion Thread
Extended Preview for Episode 5

Digimon Adventure: Digivice- Pre-orders are open for Japan!
Pre-orders also open in the US!

Adventure: Opening & Insert Song CDs have been announced!

Pre-orders are also open for:
the Kizuna Original Soundtrack
the standard version of the Shodo figures

We have some nice images of Precious GEM Imperialdramon, who goes up for pre-orders soon
Digimon 20th x Raon Lee Cover Album Update


Images and Details for 3rd Wave of US V-Pets- 7 Colors, Releasing in October, No Details on Exclusive Egg(s) Yet
Extra US Release Details

Digital Monster Version Revival V-Pets Announced in Japan

Pendulum Z Folder Continent Report #4- Nature Spirits (Part 2)


Kenji Watanabe Original Art Reproduction Announced, plus the Summer of Digimon Goods

Results of Digimon Plush Poll

Kizuna Japanese Deluxe Blu-Ray Release Updates- Preview of Storyboards and a teaser for the audio drama

Cards:
Card Previews:
Sora and Jou
Taichi and Yamato
Hikari
Taiga and Rina
MetalGarurumon
RustTyranomon
Greymon and MetalGreymon

Card Shows:
Card Battle Episode #7- Cody vs. Ogawa
Fun Digica Episode #22- What to Say Before a Match

New ReArise Partner Duo - Sara Shinkai and Bakumon

Piyomon Social Media Art & Birdramon by Kenji Watanabe



We finish with some questions from the audience.


If you want to say A.R's Tailmon toy doing it's best to walk around, you can find it right here.




You can support With the Will on Patreon or Paypal and chat with us on Discord!



Marc can be found at With the Will.

A.R. can be found at Digimon: System Restore.

May can be found at LostinTranslationmon.


The podcast audio is the livestream clipped out, with an intro and outtro added, along with some tweaking to try and improve audio quality.


This episode was recorded on June 29th, 2020.


Questions for future episodes can be sent to podcast@withthewill.net.


We can be found on iTunes, Google Podcasts, and most podcasting apps (feel free to suggest one if you don't see us there.)


Just below is a Youtube embed of the full livestream:


Let us know what you think of the image overlays for the news.


Thanks

We appreciate you guys listening and your feedback. Let us know what you think about the newest episode.

Big thanks to our Patreon supporters: AguChamp, CF, Fly, Jennifer, Joe, Julia, Ken, Kite, Kryat, Marcos, Steven, Timo, and Timothy.



Our intro and outtro song is 'Version Up', sung by Umi Tenjin in character as Koushiro from Digimon Adventure.

The site, logo, custom art, and HTML5 player was made by lost.