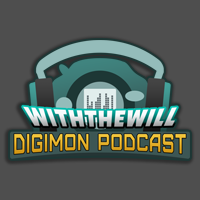 00:00:00
Victor is off getting married, so I have a special guest co-host this week! It's Stevie from The Moncast!

Stevie discusses his history with the franchise and then we go over the news, with images embedded in the video recording! (Although we were talking so much I missed a few during the discussion.)


Recent Site Stuff
Joshua Seth Interview Soon
US tri. Part 1 Contest
UK tri. Part 1 Contest

Character Profile for Erika from Hacker's Memory

Appmon Rental DVD 3

tri. Part 5 Website Update- New Theme, Story Teaser, Character and Evo Charts
Hosoya on Hiatus

Clips and Promotion for tri. Part 1 in the US
Packaging Preview for tri. Part 1 in the UK

New I Love Tailmon Plush
New Figure Series Soon? Digivolving Spirits (Super Evolution Spirit.) Preview of WarGreymon
Digimon Adventure The Real World starts in days! Map and Exhibition Info, Exclusive Products Overview



On top of random discussion between me and Stevie, we also discuss what the legal viewing options are for Digimon fans in the UK.


The podcast audio is the livestream minus a small chunk starting up at the beginning.


This episode was recorded on April 29th, 2017.

Questions for future episodes can be sent to podcast@withthewill.net.


We can be found on iTunes, Google Play, and most podcasting apps (feel free to suggest one if you don't see us there.)


Just below is a Youtube embed of the full livestream:


Let us know what you think of the image overlays for the news.


Thanks

We appreciate you guys listening and your feedback. Let us know what you think about the newest episode.

Our intro and outtro song is 'Version Up', sung by Umi Tenjin in character as Koushiro from Digimon Adventure.

The site, logo, custom art, and HTML5 player was made by lost.