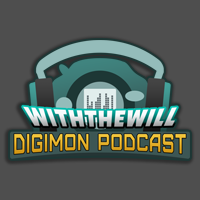 00:00:00
Victor was off at a convention so I played games on a livestream.

Justin (lost) joined me and we went through the Digimon news and answered random questions from people who showed up for the livestream. This is a roughly hour long chunk of the stream.

The news was done short, but relatively normal.

Various site news regarding product breakdowns
Second Character Song Album went up
Appmon Manga Volume 1
Appmon DVD-Box 1
tri. part 4 Blu-ray

Appmon News
Appmon OP2 and ED3
Various Appmon news bits
Images of the Shutmon Appliarise figure

General Digimon News
20th Anniversary DigiColle Figures Announced
Anniversary time for Zero-Two, Tamers, Frontier, and Savers
Translated 20th V-Pet Footage
Hacker's Memory Announced for the USA
It's been a year since Wada Kouji passed
Digimon Adventure Museum Exhibit Opening in May

tri. News
tri. Part 1 on BD/DVD in Australia
tri. Parts 1-3 Combined Digest
tri. Part 4 still in the Wald 9
tri. April Fools' Poster
DigiFes 2017 Guest Lineup
We finally have a good image of the tri. Part 5 Poster!


Questions were asked throughout the livestream.


I believe we have improvements to make, but it was a decent first livestream and everyone had fun.



This episode was recorded on April 8th, 2017.

Questions for future episodes can be sent to podcast@withthewill.net.


We can be found on iTunes, Google Play, and most podcasting apps (feel free to suggest one if you don't see us there.)


Just below is a Youtube embed of the full livestream:



Thanks

We appreciate you guys listening and your feedback. Let us know what you think about the newest episode.

Our normal intro and outtro song is 'Version Up', sung by Umi Tenjin in character as Koushiro from Digimon Adventure.

For this episode we used Agumon SUNba as the intro, sung by Chika Sakamoto in character as Agumon from Digimon Adventure tri.

The site, logo, custom art, and HTML5 player was made by lost.