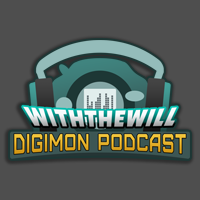 00:00:00
We talk about Digimon Adventure: episode 6, The Targeted Kingdom, the introduction of Mimi and Palmon to the new series! After that there is some news to go over!

Digimon Adventure: Episode 6- The Targeted Kingdom
Discussion Thread

Extended Preview for Episode 7
Adventure: Episode Guide Listings

Digimon Shop 3 at LB Pop-Up Theater:
Product and Shop Info
More Items

Hurricane Touchdown and Savers 3D Anniversary

Card Game:
Card Previews
RiseGreymon
Gigimon & Chibimon
Agumon & Tyranomon
Chrysalimon & Infermon
Vikemon & ULForceV-dramon
Chimairamon & Pumpmon
Ultimate Stream
Parallel Tamer Cards

New 8 Card Promo Pack
4 Promo Pack at ACGHK, Convention Delayed

Card Battle Episode #9- Booster Set 2 Match: Cody vs. Ogawa
Fun Digica Episode #24- Rule Questions (Part 1)
Fun Digica Episode #25- Rule Questions (Part 2)

Products:
Digivice: Pre-Order Tweak with Second Shipment in December
CSA Digivice Last Evolution Details from MonMon Memo
Digimon Shodo Series 1 US Pre-Orders
Pendulum Z Folder Continent Report #6- Nightmare Soldiers (Part 2)

Kizuna:
New Zealand Theater Screenings
Japanese Kizuna BD/DVD Store Exclusives

Digifes 2020 Updates:
Favorite Scene Poll #2- Digimon Adventure 02
Favorite Scene Poll #3- Digimon Adventure tri.
Digimon Music Preparing for DigiFes2020

Favorite LCD Toy Poll Results

Social Media Art
Social Art and Adventure: Episode 6 Art by Kenji Watanabe, Early Xros Wars Art, plus Volcano Ota and Tanimoto Takayoshi dubbed for the Voice Recording Challenge.



We finish with some questions from the audience.




You can support With the Will on Patreon or Paypal and chat with us on Discord!



Marc can be found at With the Will.

A.R. can be found at Digimon: System Restore.

May can be found at LostinTranslationmon.


The podcast audio is the livestream clipped out, with an intro and outtro added, along with some tweaking to try and improve audio quality.


This episode was recorded on July 13th, 2020.


Questions for future episodes can be sent to podcast@withthewill.net.


We can be found on iTunes, Google Podcasts, and most podcasting apps (feel free to suggest one if you don't see us there.)


Just below is a Youtube embed of the full livestream:


Let us know what you think of the image overlays for the news.


Thanks

We appreciate you guys listening and your feedback. Let us know what you think about the newest episode.

Big thanks to our Patreon supporters: AguChamp, CF, Fly, Jennifer, Joe, Julia, Ken, Kite, Kryat, Marcos, Steven, Timo, and Timothy.



Our intro and outtro song is 'Version Up', sung by Umi Tenjin in character as Koushiro from Digimon Adventure.

The site, logo, custom art, and HTML5 player was made by lost.