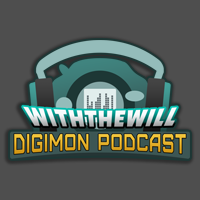 00:00:00
The Adventure: hiatus is just about over & we have a few weeks of news to go over including fun new figure details, a new date for Kizuna, card game updates, & a bunch more!


Adventure::
The Hiatus is over. Episode 4 on June 28th
Voice Recording Challenge- We get a sample with One Piece actors.

Kizuna:
New US BD/DVD Release Date is October 6th?
Australian Screenings Still Planned?

Kizuna OST cover art and July 29th release

Digimon Fusion Removed from Digital Storefronts

10th Anniversary of Digimon Xros Wars Manga

Hiatus Leadup:
Week 8 (Elaine Guest slot)- Final Fantasy VII: Advent Children Complete
Finale, Week 9- Eureka Seven

Official Poll for Favorite Digimon LCD Toy

Pendulum Z:
Folder Continent Report #2- Deep Savers
Folder Continent Report #3- Nightmare Soldiers
Communication Unlock Details from MonMon Memo

Card Game News:
Booster Set 2 Preview from August V-Jump
Millenniumon
Ikkakumon and Zudomon
Vorvomon and Lavorvomon
Tailmon and Neko Punch

Official English Rules

Card Battle Episode #5- Cody vs. Araki
Card Battle Episode #6- Ogawa vs. Araki
Fun Digica Episode #20- Viewer Suggestion Battle 3
Fun Digica Episode #21- Viewer Suggestion Battle 4


Products:
Piriroll Adventure: Special Cakes, Sweets, and Can Badges
Digimon Shop 3 at Limited Base Pop-Up Theater Announced, New Key Art
CGI Renders of Ultimate Image Kizuna Figures, Pre-Orders in August
Digivolving Spirits Sale at HobbyLink Japan
Digivice: Info in August V-Jump
New Plushes & Can Badges from Sega Crane Games


GEM figure news:
Angemon US Pre-Orders, ULForceV-dramon delayed, Taichi and Agumon should ship soon.
Angemon on Display at Limited Base
Imperialdramon announced in August V-Jump- Pre-orders in July, Ships February 2021, 20,000 yen

Shodo Digimon Series 1 Figures Announced for October- New line of affordable action figures will get a limited edition version at Premium Bandai that can be pre-ordered now. Also a teaser for wave 2.

Game News:
New Century Launching in China
ReArise in August V-Jump

Social Media & Extra things:
Terriermon Joshu art, Handwashing Videos, large art of Digimon from Nature Spirits Pendulum Z
Raon Lee Cover Album Announced with Kenji Watanabe Art
Kenji Watanabe Omegamon Art, Rough Draft of BanchoLeomon, Large art of Deep Savers Pendulum Z Digimon



We finish with some questions from the audience.




You can support With the Will on Patreon or Paypal and chat with us on Discord!



Marc can be found at With the Will.

A.R. can be found at Digimon: System Restore.

May can be found at LostinTranslationmon.


The podcast audio is the livestream clipped out, with an intro and outtro added, along with some tweaking to try and improve audio quality.


This episode was recorded on June 22nd, 2020.


Questions for future episodes can be sent to podcast@withthewill.net.


We can be found on iTunes, Google Podcasts, and most podcasting apps (feel free to suggest one if you don't see us there.)


Just below is a Youtube embed of the full livestream:


Let us know what you think of the image overlays for the news.


Thanks

We appreciate you guys listening and your feedback. Let us know what you think about the newest episode.

Big thanks to our Patreon supporters: AguChamp, CF, Fly, Jennifer, Joe, Julia, Ken, Kite, Kryat, Marcos, Steven, Timo, and Timothy.



Our intro and outtro song is 'Version Up', sung by Umi Tenjin in character as Koushiro from Digimon Adventure.

The site, logo, custom art, and HTML5 player was made by lost.