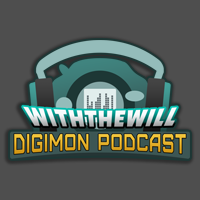 00:00:00
The last few weeks have had some fun Digimon news for us to talk about. Some highlights are a cast update for Kizuna (not to mention a delay), V-Tamer news, Digimon is back on Hulu, a bunch of card game updates, and a new V-Pet is coming!


The US Blu-ray and DVD of Kizuna has been delayed
More Theatrical Showings in Japan as they open up a bit from Coronavirus
Kizuna Artwork by Yu Yuen-wong
Derek Stephen Prince returns as Ken & Veemon, plus a few other cast updates

A preview of the new V-Tamer chapter
Clean version of V-Tamer Chapter Cover
Some High Resolution V-Tamer Art
Zeromaru and Taichi Promo Cards

Digimon Seasons 1-4 Dubbed on Hulu
Top 10 Results from Fan Favorite Digimon Poll
Some Digimon Adjacent Songs
A concert clip of Wada Kouji performing Butter-Fly

Some Product news and updates:
New "Z" Digimon V-Pet Teased in V-Jump
DigiColle Mix Product Images
DigiColle Mix Up for Pre-Order
Adventure: Stickers, Phone Accessories, and Pass Cases
New 02 Figure-rise Model Kit Teaser
Sendai Parco Closed, Kizuna Pop-up Shop Closes Early
Pre-order delay for the Digivice:

Card Game News:
Card Previews
Flow Cannon
Ikkakumon
HolyAngemon
MetalGreymon Parallel
V-Dramon Parallel
Agumon Parallel
Gabumon Parallel
Flow Cannon Parallel
Brave Shield Parallel
All of Booster Set 1

Fun Digica:
Episode #13 - Double Starter Deck & Promo Match
Episode #14 - More Parallels & Secret Rare Cards
Episode #15 - Double Starter Deck & Promo Match
Episode #16 - Booster 1 Unboxing
Episode #17 - Booster Set 1 Battle

New Printable Omegamon Playmat

Digimon Card Battle Episode #1. A short Adventure: teaser played during it.
Digimon Card Battle Episode #2. It had a preview of the packaging for Booster Set 2.
We also had a Booster Set 2 Preview from V-Jump

Hiatus Leadup:
Week 3- City Hunter
Week 4- Little Nemo
Week 5- Project A-Ko

Some social media art and image updates:
Kitaro, Fladramon, and More Large Art
Gatchmon Art, and Movie Script
Culumon and Impmon Art






We finish with some questions from the audience.



You can support With the Will on Patreon or Paypal and chat with us on Discord!



Marc can be found at With the Will.

A.R. can be found at Digimon: System Restore.

May can be found at LostinTranslationmon.


The podcast audio is the livestream clipped out, with an intro and outtro added, along with some tweaking to try and improve audio quality.


This episode was recorded on May 25th, 2020.


Questions for future episodes can be sent to podcast@withthewill.net.


We can be found on iTunes, Google Podcasts, and most podcasting apps (feel free to suggest one if you don't see us there.)


Just below is a Youtube embed of the full livestream:


Let us know what you think of the image overlays for the news.


Thanks

We appreciate you guys listening and your feedback. Let us know what you think about the newest episode.

Big thanks to our Patreon supporters: AguChamp, CF, Fly, Jennifer, Joe, Julia, Ken, Kite, Kryat, Marcos, Steven, Timo, and Timothy.



Our intro and outtro song is 'Version Up', sung by Umi Tenjin in character as Koushiro from Digimon Adventure.

The site, logo, custom art, and HTML5 player was made by lost.