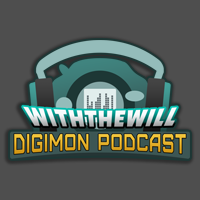 00:00:00
It's April Fools' Day, so for the newest episode of the podcast, we talk about various things that are not Digimon (mostly Power Rangers.) We also have a short appearance by a special guest..

Don't worry though, we still go over all the recent Digimon news.

The tri. Character Song Albums are out! We scanned them and did breakdowns!
Chosen Children Version
Digimon Version

tri. at Anime Japan

The super fancy Omegamon watch that's coming out!
New Digimon shirts and ties!

A new Digimon announced for the 20th Anniversary and V-Pet: Omegamon Alter-S

Appmon is getting a new Opening and Ending! And another new character!


No questions this time. They'll be back next episode.


This episode was recorded on March 30, 2017.

Questions for future episodes can be sent to podcast@withthewill.net.


We can be found on iTunes, Google Play, and most podcasting apps (feel free to suggest one if you don't see us there.)


Just below is a Youtube embed for those who like to listen to podcasts via Youtube:



Thanks

We appreciate you guys listening and your feedback. Let us know what you think about the newest episode.

Our normal intro and outtro song is 'Version Up', sung by Umi Tenjin in character as Koushiro from Digimon Adventure.

For this episode we used Agumon SUNba as the intro, sung by Chika Sakamoto in character as Agumon from Digimon Adventure tri.

The site, logo, custom art, and HTML5 player was made by lost.