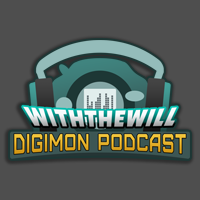 00:00:00
This time we discuss Digimon Adventure: episode 3, And to the Digital World, along with the show going on hiatus! We also discuss the home video release of Kizuna, and the return of V-Tamer!


No news this time, we just discuss the episode.

Digimon Adventure: is on hiatus.

Digimon Adventure: Last Evolution Kizuna on Home Video in US on July 7th

V-Tamer Returns! July V-Jump will have One Chapter Special!



Episode 3 Discussion Thread at WtW

Extended preview for episode 4



The Lost in Translationmon episode that covers the episode

AR's written review of the episode



We finish with some questions from the audience.



You can support With the Will on Patreon or Paypal and chat with us on Discord!



Marc can be found at With the Will.

A.R. can be found at Digimon: System Restore.

May can be found at LostinTranslationmon.


The podcast audio is the livestream clipped out, with an intro and outtro added, along with some tweaking to try and improve audio quality.


This episode was recorded on April 20th, 2020.


Questions for future episodes can be sent to podcast@withthewill.net.


We can be found on iTunes, Google Podcasts, and most podcasting apps (feel free to suggest one if you don't see us there.)


Just below is a Youtube embed of the full livestream:


Let us know what you think of the image overlays for the news.


Thanks

We appreciate you guys listening and your feedback. Let us know what you think about the newest episode.

Big thanks to our Patreon supporters: Fly, Macros, Steven, Aguchamp, Kite, Ken, Timo, Joe, Timothy, Jennifer, Julia, CF, Kryat, and Lizmet.



Our intro and outtro song is 'Version Up', sung by Umi Tenjin in character as Koushiro from Digimon Adventure.

The site, logo, custom art, and HTML5 player was made by lost.