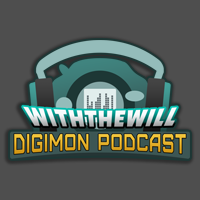 00:00:00
With the movie delayed, we have less Kizuna discussion than planned, but with only a week to go until Digimon Adventure: begins, we still have a ton to go over. And they've been tossing a ton of product and Card Game details at us!

News

The US screenings of Kizuna were cancelled due to Coronavirus.
We have a discussion thread, along with suggestions of things to do to keep busy while you have extra time.
Old WtW co-host Victor returned for a livestream we did last week, which was fun. We may do it again.

More Kizuna Updates
Japanese Box Office details
We were supposed to get a poster at Fathom screenings. Maybe we still will?
MEFCC seemingly had an English dub clip
They keep adding new theaters in Japan for Kizuna!
The movie has gotten a PG rating in Australia.
We have details on how the new evolutions got their names.

Kizuna Artwork
Toei profile art for new Digimon from the movie
Production artwork from Animedia

What Lies Ahead CD (Kizuna Insert Song)- Scans and Breakdown

Adventure:
Early Footage on Mezamashi TV
Trailer. Show Begins April 5th
Extended Mezamashi Clip & Guide Listing
Episode 1 title- Tokyo: Digital Crisis!
May V-Jump- Digital World info
Algomon details plus somedifferent art from a preview
Character Art and Profile Details
New Trailer and Cast Details

Adventure: Music
OP, ED, and BGM Details
The ED can be pre-ordered!
Preview of the ED

Adventure: Social Media and Sites
Twitter & Parade Website Opens
Line Account Opens

New DigiNavi next week!

Card Game Updates
Battle Spirits playmay and Variants for CB02 reprints
Digimon Card Game
Sleeves & Final Starter Deck Packaging
Booster Set 1 Details
Preview in V-Jump
V-Jump Exclusive Cards
CSA Last Evo Digivice at Premium Bandai USA
Official Site Fully Open
Card Game Show on Youtube
Episode 1 of Fun Digica
Episode 2 of Fun Digica & Card Promo/Trailer
Card Game Teaching App is out

Digimon Season 1 no longer on Starz

Anniversaries
21st for Digimon Adventure- March 7th, 1999
21st for 1st Adventure movie- March 6th, 1999
20th for Children's War Game- March 4th, 2000
5th for Cyber Sleuth- March 12th, 2015
19th for Revenge of Diablomon and 18th for Runaway Digimon Express- March 3rd, 2001 and March 2nd, 2002

Game News
1 Last Idolmaster Update
ReArise
Side Story
Season 2 teases
Season 2 is out
Details for Mon and Hackmon
Season 2 Commemorative Herrismon in Japan, Movie tie in for global
Survive
Kaito and Dracmon Details
A bit more on Kaito
More Kaito yet again
Miu and Shakomon Details
More Miu and Shakomon


A bunch of smaller product updates...
Bandai US is teasing a 3rd wave of V-Pets
Info on Adventure: Digivice keychains
Adventure: Jigsaw puzzles gave us a preview of some new art
Crest of Courage Gummy candy will include stickers, and we have images!
The CSA Digivice Last Evolution is pre-orderable at Premium Bandai USA! Also, the MetalGarurumon model kit is delayed by a bit.
Premium Bandai USA also has the Omegamon X figure. The Sendai LB Pop-Up shop also has an exclusive sticker
The Memorial Book is being reprinted and pre-orders are up.
Austrlaian get a Greymon windshield shade
Plus the Australian tri. BD set
Toei Shareholders get QUO cards, and Australia gets something else... a mug!
The Kizuna Bracelets get a general release
Premium Bandai has the Kizuna Card Premium Editions
Karatez Karaoke Goods can be bought online! But only until Tuesday!

More of the Leadup:
30 (Classic)- Soul Eater
31- Kamen no Maid Guy
32- Gundam Thunderbolt movie duo
33- Heroman
34 (Classic)- Toradora

Art:
The not quite Digimon Zexmon
Art from Memorial Story Project Booklet

Kizuna Meeting Cafe at Ani-On Station Part 2 Details

More Products and Collaboration Event Updates:
More Products at Limited Base
New LB Pop-Up Theater in Sendai. More Products, featuring Kumamon Adventure
Limited Base Sendai Sticker
Vanquish Omegamon products at Limited Base. Also, the Anrakutei BBQ collab has been extended, but ends on March 31st.

Precious GEM MetalGreymon:
Details
Pre-orders
US Pre-Order Stock

There has been some fun official Digimon Social media art lately, plus a number from Volcano Ota!:
First Image Set- Xros Wars Earthquake Memorial, White Day, Volcano Ota draws Leomon
Second Image Set- Lilymon is a Vtuber, Monzaemon is streaming?, and Volcano Ota draws Beelzebumon
Coronamon and Lunamon and the Coronavirus, plus Volcano Ota draws Vritramon and Volcamon





We finish with some questions from the audience.



You can support With the Will on Patreon or Paypal and chat with us on Discord!



Marc can be found at With the Will.

A.R. can be found at Digimon: System Restore.

May can be found at LostinTranslationmon.


The podcast audio is the livestream clipped out, with an intro and outtro added, along with some tweaking to try and improve audio quality.


This episode was recorded on March 28th, 2020.


Questions for future episodes can be sent to podcast@withthewill.net.


We can be found on iTunes, Google Podcasts, and most podcasting apps (feel free to suggest one if you don't see us there.)


Just below is a Youtube embed of the full livestream:


Let us know what you think of the image overlays for the news.


Thanks

We appreciate you guys listening and your feedback. Let us know what you think about the newest episode.

Big thanks to our Patreon supporters: Jacob, Fly, AguChamp, Steven, Marcos, Kite, Lizmet, Ken, Timo, Kryat, tofumon, CF, Jennifer, Timothy, Joe, and Julia.



Our intro and outtro song is 'Version Up', sung by Umi Tenjin in character as Koushiro from Digimon Adventure.

The site, logo, custom art, and HTML5 player was made by lost.