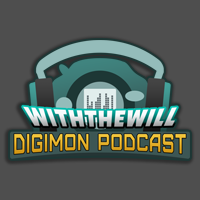 00:00:00
It's our first show of the year, and things have already changed heavily for the brand! It was gonna be a packed show before they announced we were getting the new Digimon movie in the US! Then they announced a new anime, new card game, and they kept going. 2020 looks to be one of the biggest years for the franchise ever!

News
Happy New Year 2020!- New Year's art, plus a general state of the site.

The Digimon News Navigation Livesteam happened. Due to the wild news we got elsewhere, the livestream was rather light.
Our wrap up post does have some interesting translations of some of the stuff said though covering Kizuna, the new card game, and Survive.


The new Digimon movie is in US Theaters in March!
Last Evolution Kizuna will also have an early screening in Japan with guests!
DigiNavi has producer Kinoshita go over quite a bit.

Digimon Adventure: was announced, and boy... we have a lot...
Bandai teases V-Jump
An Early leak with some details
We got the poster, V-Jump images and info a bit early detailing the new series
Clean artwork
A short teaser, some crew details, and an official website!
Comments from original Adventure director Kakudou and producers from the new show.
1st Images from DigiNavi- Taichi grabbing his goggles

Digimon Project Trailer- This is a 'brand' trailer for Digimon. Showing off the past, present, future, mostly in a way to show off the brand.


The new Digimon Card Game is coming!
Initial details for the new card game
More info from when they opened the official Twitter.
DigiNavi showed off a promo pack that will come out early.


Plus we got our first look at Battle Spirits Digimon Last Evolution!
Another look in V-Jump
Did a new level get announced by mistake?

Updates on Last Evolution Kizuna Music!:
CDs were announced at the 20th mini concert
Photo prints were sold at the large store the event was being held at
Tracklists, plus cover art for most of the CDs

We have a translated multi-part interview with Producer Kinoshita about the movie, crowdfunding project, and the memorial shorts.

Digimonukkah 2019 finished up after our last episode in 2019:
Day 7- Digivolving Duskmon Figure
Day 8- Digimon Card Premium Edition Sets

More shows in the leadup to the new Digimon movie:
22. Ultraman
23. SSSS.Gridman
24. Haruka Nogizak's Secret
25. Tenchi Universe (Classic)

Artwork and Profile updates for Various Digimon:
January Week 2 Artwork
January Week 3 Artwork
January Week 4 Artwork
A small reference book update

Survive Updates!:
Story, Saki and Floramon, plus Free Action
Shuji and Lopmon, plus the Smartphone Camera
DigiNavi had some new Survive footage
Translations of various details from DigiNavi

ReArise is doing a Last Evolution event! There was also images in V-jump

It's the 15th Anniversary of X-Evolution!
Australia is getting tri. Complete sets

Animate is doing collaborations for Kizuna! The Digimon Kitchen Car is back, plus a neat looking shikishi!

More Collaborations:
Kizuna Pop-Up Shop at LB Theater for the release of the movie!
The 2nd Memorial Short will play there!
Small updates for the Idolmaster Starlight Stage Collaboration
We also get... Kumamon Adventure!


Product Updates
3rd wave of GraffArt products can be ordered, plus the novels!
Some detials of the prior pop-up shop lucky bag
Stuffed Collection Wormmon will be orderable soon!


A bunch of new produts have been announced!:

Agumon crane game plushies in Japan in February!
A 2nd wave of US V-Pets! the exclusives are Lunamon & Coronamon.
2nd Wave of Figural keychains, plus more places to order the V-Pets at
CSA Digivice Last Evolution! Details from MonMon Memo
Super Metallic Posters & a new series of Digimon Card Premium Edition sets!
An Amplified MetalGarurumon model kit was announced!



Precious GEM ULForceV-dramon pre-orders are open! plus we get a figure intro.


We finish with some questions from the audience.



You can support With the Will on Patreon or Paypal and chat with us on Discord!



Marc can be found at With the Will.

A.R. can be found at Digimon: System Restore.

May can be found at LostinTranslationmon.


The podcast audio is the livestream clipped out, with an intro and outtro added, along with some tweaking to try and improve audio quality.


This episode was recorded on January 25th, 2020.


Questions for future episodes can be sent to podcast@withthewill.net.


We can be found on iTunes, Google Podcasts, and most podcasting apps (feel free to suggest one if you don't see us there.)


Just below is a Youtube embed of the full livestream:


Let us know what you think of the image overlays for the news.


Thanks

We appreciate you guys listening and your feedback. Let us know what you think about the newest episode.

Big thanks to our Patreon supporters: Fly, Marcos, Sgeven, Nkenna, Jacob, Ken, Timo, Joe, Timothy, Jennifer, Julia, CF, tofumon, and Lizmet.



Our intro and outtro song is 'Version Up', sung by Umi Tenjin in character as Koushiro from Digimon Adventure.

The site, logo, custom art, and HTML5 player was made by lost.