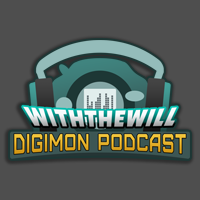 00:00:00
It's our last show of the year, and on top of a bunch of news to talk about (especially for Kizuna and Survive) we end up talking about the last year, the last decade, and what we want to see in 2020.

News

Official Digimon Christmas art from Bandai and Toei

Digimon Chronicle X Chapter 25 and Chapter 26.

Artwork and Profiles:
Gankoomon X, Meramon X
Jazarichmon & Cryspaledramon
Jazardmon and Paledramon
Reference Book Update
Metallicdramon
X3 Secret- NoblePumpmon
X3 Secret 2- Jesmon GX and Ogudomon X
Video preview, early art, of Jesmon GX and Ogudomon X
X3 Secret 3- Hexeblaumon
Reference Book- Secret Digimon
Word Game
Word Game 2
Word Game 3
Work Game 4

Info about Chronicle x in Digimon X3 & the Artbook
Petit Stationary Stands
Omegamon Fountain Pen
Digimon Adventure Selection Box Card Set
Adventure Featured in Toei 2020 Calendars

Procucer Habu was interviewed about Cyber Sleuth and Survive.

A bunch of updates on Digimon Survive!:
Cast, Character, Story Details
More Story and Character Info- Ryou and Kunemon
Saki and Floramon
Details and Screenshots- Maybe from leak?
Story Part 3, plus Drama/Investigation Info

More shows in our leadup to the new Digimon movie:
16. Galko-chan
17. Tenchi (Classic)
18. Dragon Pilot (Guest- Devkyu)
19. Tylor
20. Black Heaven (Guest- Logan)
21. Haganai (Classic)

We're doing Digimonukkah again this year, and 6 days through it:
Day 1- Savers Mini-Calendar
Day 2- Digimon Reboot Omegamon Model Kit
Day 3- DigiFes 2019 Booklet and Translated interview with Director Tomohisa Taguchi
Day 4- Photos & Videos from Digimon Adventure 20th Tour
Day 5- Precious GEM Omegamon- Breakdown and Photos
Day 6- UK Digimon Season 2 DVD Collection- Scans & Breakdown

tri. & V-Tamer Anniversaries
Streaming updates. Digimon Fusion is gone from Netflix and a few streaming updates for Japan.

We know the tri. BD/DVD Box store exclusives plus the theme song to Digimon Encoutners is on CD!

Music News:
20th Anniversary of Digimon CDs Mini-Concert Event
Show You My Brave Hearts 5 was earlier this month and had a new Miyazaki mini-album release.
Butter-Fly on Charts after 20 years

3rd Digimon x GraffArt collaboration. Availibity was expanded to a few more stores and their online store.

Pop-Up Shop Updates:
A few more products for Pop-Up Theater
Lucky Bags at Pop-Up Theater for New Year's
Miku Stores Closed- Collaboration Products available online

Megahobby Expo had a few different announcements!:
GEM MetalGreymon Announced
We got to see ULForceV-dramon in color! Also a size comparison, plus the first release details.
They announced a lifesize Wormmon plush

New Small Plushes and Cushions announced!

Digimon at Jump Festa 2020- There was a photospot, a huge art disply, and the setup was rather large!

A new Battle Spirits card set based on Kizuna was announced!

Smaller Kizuna Updates:
Theater List
Ticket Voucher and Products on sale and also at HMV.
1st details for the Ani-on Station Kizuna cafe.

Last Evolution Kizuna:
New Trailer, plus music info
Poster
Smartphone Digivice Info
New Characters and Actors

2 Kizuna Novelizations in 2020

Digimon News Navigation Livestream on January 24th

Bandai Thank You 2019 Art and Message



We finish with some questions from the audience, plus quite a few that you guys sent in ahead of time. Really good questions this time.



You can support With the Will on Patreon or Paypal and chat with us on Discord!



Marc can be found at With the Will.

A.R. can be found at Digimon: System Restore.

May can be found at LostinTranslationmon.


The podcast audio is the livestream clipped out, with an intro and outtro added, along with some tweaking to try and improve audio quality.


This episode was recorded on December 28th, 2019.


Questions for future episodes can be sent to podcast@withthewill.net.


We can be found on iTunes, Google Podcasts, and most podcasting apps (feel free to suggest one if you don't see us there.)


Just below is a Youtube embed of the full livestream:


Let us know what you think of the image overlays for the news.


Thanks

We appreciate you guys listening and your feedback. Let us know what you think about the newest episode.

Big thanks to our Patreon supporters: Fly, Nkenna, Steven, Marcos, Jacob, Timo, Ken, tofumon, CF, Julia, Timothy, Joe, and Lizmet.



Our intro and outtro song is 'Version Up', sung by Umi Tenjin in character as Koushiro from Digimon Adventure.

The site, logo, custom art, and HTML5 player was made by lost.