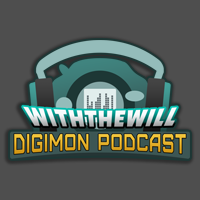 00:00:00
It's been awhile since our last show, with news popping up from collaborations, to anime, to new v-pets, figures, and it's a little bit of everything!

News
Butter-Fly Music Library & Shirts Available Again
Digimon Card Premium Edition Sets at Premium Bandai!

Ultimate Image Omegamon X Figure up to Pre-Order- After being teased for quite awhile you can finally pre-order this guy!

Digimon X2 Updates!:
Preview of the booklet from MonMon Memo
On display at ACGHK 2019
And even back to it being on display at DigiFes!

New Digimon Art and Profiles!- On top of another huge reference book update, we get some updates for Ogremon X and Vamdemon X.

The Digimon X3 was announced!:
Our first confirmation it existed from early V-Jump info
The logo and tease from V-Jump
https://withthewill.net/threads/22174- Plus our first information about the theme of the new V-Pets!


A bunch of Mobile Game Updates:
Digimon Links Closes.
But we get some final Links art.
Pre-registrations opened for ReArise.
The final numbers needed for the special pre-registration gifts.
The new Digimon will show up outside of Japan first.
Armagemon and Meicoomon events in ReArise in Japan.
Is ReArise being dubbed in English?


A bunch of Cyber Sleuth updates, plus some other game news:
New Story Trailer- This new trailer introduces the stories to the games.
UK Pre-orders have opened, although the price is a touch high.
Cyber Sleuth and Survive will be at TGS
V-Jump Spread- Not much new, but they did do a contest.
An odd CS Complete display at GME plus some news that may or may not have to do with a future Digimon game...
Info from the Japanese pre-load
Info from Bandai-Namco Germany
NX Digimon included in the US

Odaiba Memorial 2019- Bandai put up some great art for a day Digimon fans love to celebrate.
Digimon the Movie DVD- Breakdown, Scans, Screencaps!- We jumped in to Odaiba Memorial with a special breakdown.

Taichi & Sora (DigiFes 2019 CD) Scans and Product Breakdown- We also had a breakdown of the newest Digimon CD.

Unfortunately a number of people from Digimon have passed recently:
Michael Lindsay- Best known as Joe and Greymon in Adventure, he was also Gotsumon in Data Squad, and in fact was the original voice of Agumon for a few episodes.
Robert Axelrod- Axelrod was best known to Digimon fans for Armadimon and Wizardmon, but most people would likely know him best as Lord Zedd and Finster from Power Rangers.
Nigel Dobbyn- Dobbyn was the artist on a number of issues for the US Digimon comic.

20 Years since Digimon Premiered in English

DigiFes Wrap up, plus some small Kizuna newsbits:
DigiFes Wrap Up Info
DigiFes Brochure available to buy at Toei Store- If you wanted to get a copy of this for yourself, this is your best chance.
Train station promotion
Some great 02 social media art from Bandai plus images of the digital signage for the train station promtion.

Bandai Channel has a few special Digimon rentals in Japan
Anime Film Festival Tokyo 2019 is going to have a pretty fantastic looking Digimon screening on October 18th. It's have staff from both Adventure and Kizuna on hand and be showing 2 episodes of Adventure.

Katsuyoshi Nakatsuru Interview- We have a translation of the longtime character designer's recent V-Jump interview.

Some event updates:
Original Digimon Adventure Escape Room returns
1st Look at Anniversary Tour products
A few exhibition updates- Unfortunately it's closed, but a few details from the last few weeks.

Kizuna Collaborations Announced- Looks like a music cafe and an escape room are coming!

Hatsune Miku Collaboration news:
Early confirmation of a Hatsune Miku Agumon Costume Nendoroid
Details and photos from a Miku concert event
Miku's version of Butter-Fly, plus collaboration art and a bunch more details!




Leadup to Kizuna at WtW!:
Intro and Week 1- Gundam Build Fighters
Week 2- Kimagure Orange Road
Week 3 (and 4)- Lupin the 3rd Part 4
Week 4 Movie- Redline
Week 5- Love, Chunibyo & Other Delusions
Week 6- Voltron


Digimon Memorial Story Project- The crowdfunding event has begun and a ton of interesting stuff was shown off.
It was funded super fast!

Memorial Story, To Sora- Storyboards & Dialogue- Our first solid details from one of the shorts!


We finish with some questions from the audience.



You can support With the Will on Patreon or Paypal and chat with us on Discord!



Marc can be found at With the Will.

A.R. can be found at Digimon: System Restore.

May can be found at LostinTranslationmon.


The podcast audio is the livestream clipped out, with an intro and outtro added, along with some tweaking to try and improve audio quality.


This episode was recorded on September 10th, 2019.


Questions for future episodes can be sent to [email protected].


We can be found on iTunes, Google Podcasts, and most podcasting apps (feel free to suggest one if you don't see us there.)


Just below is a Youtube embed of the full livestream:


Let us know what you think of the image overlays for the news.


Thanks

We appreciate you guys listening and your feedback. Let us know what you think about the newest episode.

Big thanks to our Patreon supporters: Fly, Steve, Nkenna, Steven, Marcos, Jacob, Yan, Timo, Ken, tofumon, CF, Julia, Jennifer, Timothy, Joe, and Lizmet.



Our intro and outtro song is 'Version Up', sung by Umi Tenjin in character as Koushiro from Digimon Adventure.

The site, logo, custom art, and HTML5 player was made by lost.