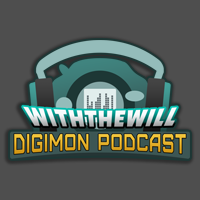 00:00:00
DigiFes happened and we discuss the fun news out of it. Including the return of fan favorite characters!

News
DigiFes 2019!- One of the biggest days of the year for Digimon fans!
DigiFes 2019 Welcome Sign by Kinoko Yamada- Palmon's actress made a gorgeous welcmoe image for people arriving at DigiFes.
Director Kakudou Shares His Adventure & 02 Comments from DigiFes Booklet- Getting part of the booklet translated already gives us some insight from the original director of the anime.

Some Digimon Profiles and Art Updates for the upcoming Digimon X2:
LadyDevimon
MetalGreymon and a large reference book update
Some details from MonMon Memo

ReArise Updates:
Season 2 Teaser & Adventure, 02, and tri. content
DigiFes ReArise Present Campaign

Anime Expo 2019 Panel Recording- The entire AX panel is up for you to enjoy!
Cyber Sleuth CompleteSwitch Demo at Jump Victory Carnival, Plus Gift!- The first demos of the Switch port of the games were available to play.
Survive Intro Animation & Updated Keyart- Finally everyone can watch the video that was shown at Anime Expo!

Precious GEM Beelzebumon & Behemoth Pre-order- The figure ships in March, and we got an intro showing off the figure.
GEM Taichi & Agumon 20th Anniversary Version Announced- A new, and hopefully affordable, figure... and it's based off classic key art!

Digimon Anniversary Exhibition Being Updated in August- As August begins, new content will go up at the exhibition!
Update on Hatsune Miku Collaboration- Miku will sing Butter-Fly! We will also get info about products, fan submissions, and more on September 1st.
Digimon Adventure 20th Anniversary Official Tour Announced- This tour will have tickets by lotto, which opens soon. It'll include a BBQ, a fan talk with a number of guests, and even exclusive products!

New series of Adventure animated shorts announced!- This series of shorts will tie into the new movie. A new pop-up shop will also open showing them. Plus instead of being kept 'event only', they will do crowdfunding for a Blu-ray!

The 02 kids and Digimon return in Last Evolution Kizuna!
The character designs for everyone, plus the cast for the 02 kids!
Character profiles for all 8 characters, plus the cast for the 02 Digimon!


The site has a news index to help you easily catch up on the recent news.



We finish with some questions from the audience.



You can support With the Will on Patreon or Paypal and chat with us on Discord!



Marc can be found at With the Will.

A.R. can be found at Digimon: System Restore.

May can be found at LostinTranslationmon.


The podcast audio is the livestream clipped out, with an intro and outtro added, along with some tweaking to try and improve audio quality.


This episode was recorded on July 28th, 2019.


Questions for future episodes can be sent to podcast@withthewill.net.


We can be found on iTunes, Google Podcasts, and most podcasting apps (feel free to suggest one if you don't see us there.)


Just below is a Youtube embed of the full livestream:


Let us know what you think of the image overlays for the news.


Thanks

We appreciate you guys listening and your feedback. Let us know what you think about the newest episode.

Big thanks to our Patreon supporters: Fly, Steve, Nkenna, Steven, Marcos, Jacob, Yan, Timo, Ken, tofumon, CF, Julia, Jennifer, Timothy, Joe, and Lizmet.



Our intro and outtro song is 'Version Up', sung by Umi Tenjin in character as Koushiro from Digimon Adventure.

The site, logo, custom art, and HTML5 player was made by lost.