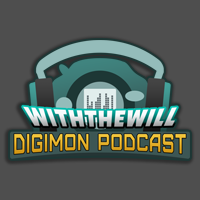 00:00:00
We play a bit of news catch up since there is one week left until DigiFes! V-Pet news, some new Digimon, upcoming products, plus a ton of events!

News
Show You My Brave Hearts Vol. 4 Products Available Online

A bunch of mobile game news:
Digimon: New Century Coming to China
ReArise 'Season 1' is over, plus Art and themesong info for New Century
Rasenmon: Rage Mode Artwork and Profile
Rasenmon Art and Profile
An Appmon mobile game came out in Korea!

The Western release of the Digimon 20th V-Pet is in the midst of beginning to ship out. Discussion thread here
Digimon X2 V-Pets are now in a second pre-order period plus Premium Bandai USA has it up to pre-order!

There have been a few MonMon Memos covering the Digimon X2:
Lineup info and Character Teases
Evolution and Raising Details
Both versions of Rasenmon will appear!

We've gotten artwork for a number of new Digimon, plus profiles for some of them:
Ogremon X
Mephismon X
From V-Jump- Agumon Black X, Vamdemon X, MetalGreymon VIrus X

Cyber Sleuth Complete Edition Pre-Orders for Switch are Open!
Digimon Survive Pre-Orders are also open for all 3 consoles! plus V-Jump had preview images of the games animated opening.
Producer Habu answers more questions that fans asked about Digimon games


Digimon Seasons 1 thru 4 Gone From Hulu- Depending on how you accept a loopholed explanation, only Tamers is 'completely' gone though.
Toei Channel Airing the Adventure & Adventure 02 Movies for Anniversary
Adventure 20th Diablomon Movies Screening with Guests and Gift- Kenji Watanabe and Hiromi Seki will be there, and Kizuna postcards will be given out!

Ultimate Image Omegamon X Figure Teaser- Based off new art?
Figure-rise Standard Amplified WarGreymon & Omegamon Pre-Orders, plus a US release!

Precious GEM Beelzebumon & Behemoth Figure Release Info. This one is pricey! Next week at Wonder Festival 2019 Summer they will give away fans.

Megane Ichiba Glasses Wipe Campaign- FOr a little over a month you can get a massive glasses wipe with all the Adventure kids and their Digimon on it!
2nd Set of GraffArt Adventure 20th Products Standard Release in August- Pre-Orders are open now!

Adventure 20th Collaboration at Karatez Karaoke- Products and Song Contest, and it's already open!
Digimon Adventure 20th Anniversary X Tower Records Cafe Opens- We went over the products, food, and drinks a few episodes ago. If you are in Japan you can visit it right now!

Sky Cafe Drinks & Mini Limited Base Shop at Yokohama Landmark Tower- The drinks and products that will be sold at the Digimon Adventure 20th Anniversary Exhibition is an eclectic and interesting mix.
Adventure 20th Exhibition Opens- A bunch of stuff is on display and we have a ton of photos!


Details for the new movie, Digimon Adventure: Last Evolution Kizuna
Trailer
Crew Info
Animation Character Designs


DigiFes 2019 is next week and we know what products will be on sale at the event!




No discussion topic this time, but we will have another episode next week to go over (hopefully) all the fun news out of DigiFes!




We finish with some questions from the audience.



You can support With the Will on Patreon or Paypal and chat with us on Discord!



Marc can be found at With the Will.

A.R. can be found at Digimon: System Restore.

May can be found at LostinTranslationmon.


The podcast audio is the livestream clipped out, with an intro and outtro added, along with some tweaking to try and improve audio quality.


This episode was recorded on July 20th, 2019.


Questions for future episodes can be sent to podcast@withthewill.net.


We can be found on iTunes, Google Podcasts, and most podcasting apps (feel free to suggest one if you don't see us there.)


Just below is a Youtube embed of the full livestream:


Let us know what you think of the image overlays for the news.


Thanks

We appreciate you guys listening and your feedback. Let us know what you think about the newest episode.

Big thanks to our Patreon supporters: Fly, Steve, Nkenna, Steven, Marcos, Jacob, Yan, Timo, Ken, tofumon, CF, Julia, Jennifer, Timothy, Joe, and Lizmet.



Our intro and outtro song is 'Version Up', sung by Umi Tenjin in character as Koushiro from Digimon Adventure.

The site, logo, custom art, and HTML5 player was made by lost.