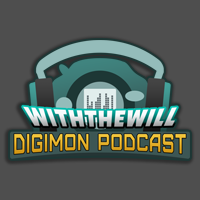 00:00:00
The Anime Expo 2019 Digimon panel was only 2 days ago, and the con only ended yesterday, so we decided to leap into a special to go over some of the exciting movie and game news, plus discuss the convention itself!

We had a few audio and technical issues in this episode. The audio download has been edited a bit more than normal to 'try' and help with it.

News
Cencoroll Connect- It isn't Digimon, but it's slightly related. Uki Atsuya's (character designer for tri.) new film premiered at Anime Expo, and he showed up to talk to the audience!

The panel itself. Some general discussion of the panel itself, along with a few photos.

Digimon Survive- We got news of a delay, and the audience got to see the entire animated intro to the game. On the plus side... you can now pre-order it!
Cyber Sleuth Complete on Switch and PC- Cyber Sleuth and Hacker's Memory return in a 2-in-1 package! Pre-orders are already up and we also have some details of a Japanese release.
Next Digimon Story Update- We also got a very small update for the next Digimon Story game.


Digimon Adventure Last Evolution Kizuna- At the panel they confirmed the title, showed new keyart with a 'flashback' theme, announced staff, showed an English subbed trailer, and even announced a quick US release!
The trailer was released online! In addition they released nice crisp versions of the poster and keyart. Lots of interesting stuff.
Animation Character Designs for Last Evolution Kizuna- After getting early looks at production art for nearly a year, and full designs over half a year ago, we finally have the finalized animation designs.

Digimon at Toei Booth- There was a number of fun things in the exhibition hall at the Toei booth for Digimon fans. Bandai also had the model kits on display!

There was a signing with Producers Kinoshita and Habu.

The last bit is showing off various things from the con like the gifts from the panel and various things purchased from artist alley!

The things purchased from in artist alley were bought from the following artists in case you want an of them:
mamobot
Natto
Tyson Hesse
polkiuu
mimi-miru
tilted lily



No discussion topic this time, is the movie and game news and convention stuff itself!


We finish with some questions from the audience.




You can support With the Will on Patreon or Paypal and chat with us on Discord!



Marc can be found at With the Will.

A.R. can be found at Digimon: System Restore. A.R. will be at Kitsunekon 2019 this weekend.

May can be found at LostinTranslationmon.


The podcast audio is the livestream clipped out, with an intro and outtro added, along with some tweaking to try and improve audio quality.


This episode was recorded on July 8th, 2019.


Questions for future episodes can be sent to podcast@withthewill.net.


We can be found on iTunes, Google Podcasts, and most podcasting apps (feel free to suggest one if you don't see us there.)


Just below is a Youtube embed of the full livestream:


Let us know what you think of the image overlays for the news.


Thanks

We appreciate you guys listening and your feedback. Let us know what you think about the newest episode.

Big thanks to our Patreon supporters: Fly, Steve, Nkenna, Steven, Marcos, Jacob, Yan, Timo, Ken, tofumon, CF, Julia, Jennifer, Timothy, Joe, and Lizmet.



Our intro and outtro song is 'Version Up', sung by Umi Tenjin in character as Koushiro from Digimon Adventure.

The site, logo, custom art, and HTML5 player was made by lost.