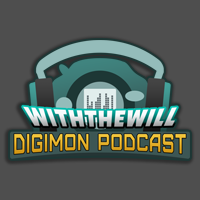 00:00:00
It's time for a bunch of X Digimon discussion! From the new Digimon X2 V-Pets, to a bunch of a new Digimon! And there is figure and event news! And Anime Expo is just a few days away!

News
Digimon is 22 Years Old!- June 26th, 1997 was the 22nd anniversary of the brand!
The Movements of the Seven Great Demon Lords- Bandai released small profiles of what the Seven Great Demon Lords were up to during the timeframe of the Digital Monster X V-Pet.
The Digital Monster X Version 2! The newest Digimon V-Pet got announced and we have all the details! They did a MonMon Memo before it went up to give a few details. And after they did another, but this one also includes a video preview!
In a bit of a surprise they gave us nearly the full lineup of the Digimon X2 in the pre-order announcement above! They did a MAJOR reference book update with a dozen profiles! Plus they've began to do mini profiles on Twitter again! There is also a bit of better art of a few of them here.

The story of the Digital Monster X and X2 are being told through Digital Monster X, which has gotten a ton of updates lately!:
Chapters 5 & 6- GrandDracmon and Dark Area
Chapter 7- The Gate of Darkness Opened
Chapter 8- The Expanding Threat
Chapter 9- Conspiracy
Chapter 10- The Last of the Seven Great Demon Lords
Chapter 11- Clash

Evolution Conditions for the Digital Monster X- After making fans figure it out on their own for awhile, Bandai released an evolution chart with the various things you have to do to get specific Digimon.
20th Anniversary English V-Pet- You can just pre-order them easily now! You don't have to walk into a store with an item code written down!

Digimon Streaming Changes- Seasons 1-4 off Hulu this weekend and it vanished off a bunch more recently. Could there be a license change happening?
Australian Digimon 20th Anniversary DVD-Box Cover Art- Just a week and a half left until Australian fans can get this massive DVD-Box.
Toei Channel Airing Digimon Adventure for 20th Anniversary- It begins on July 31st, with a preview of episode 1 on July 7th.

We called this one last episode... Digimon Links is shutting down. You have until July 30th to finish anything you want in the game.
ReArise Updates! With Links closing, they've begun to tease ReArise outside of Japan even more. Then we finally found out the name for Erismon's dark Ultimate is Rasenmon GM. We got more art of him, plus the first look at Erismon's proper Ultimate and news of a bunch of anniversary things, including shikishi!

5th Series of Digimon Acrylic Cards & New 0801 Shirt- The new shirt is nice and everyone loves when we see a new series of acrylic cards! You can pre-order these now.
A new Ultimate Image figure is coming soon- This time it's Omegamon X!


New model kits! Prototypes of the new Figure-rise Standard Amplified Digimon kits were shown at WonFes Shanhai. We shortly after got full color images and more details for WarGreymon and Omegamon! Bandai also confirmed pre-orders would be open soon!
We then got a nice early look at Figure-rise Standard WarGreymon Amplified and the kit just looks fantastic!

Show You My Brave Hearts Vol. 4 was last week! We expect the products will show up online soon.
Some of Uki Atsuya's tri. art is on display! It's part of an art display of his work to celebrate the release of his new film, Cencoroll Connect.

DigiFes updates! Some sort of 20th film promo will be shown, general ticket sales have begun, plus a few more guests, this time from 02!
DigiFes 2019 Early Order Product Kit- A number of DigiFes items are being sold in a slightly discounted bundle.

2nd Digimon Adventure 20th GraffArt Collaboration in July- More products, this time with an anime themed set of artwork!
Digimon Adventure 20th Anniversary Exhibition at Yokohama Landmark Tower- An exhibition featuring photo spots, products and making of materials on display, and a custom menu!
Adventure 20th & Tower Records Cafe Collaboration- Tower Records will have products with music themed art, plus a full custom menu at their cafe!

Digimon Survive Promo Video- The first Survive update we've gotten in awhile features some game footage, the producers discussing the game, showing off early art, and Habu talking about his history with the franchise.

Digimon Anime Expo Panel Updates:
Producer Habu attending to discuss Survive
Anime Producer Kinoshita attending to discuss the 20th movie
Poster giveaway and signing
Questions were taken from fans to answer
A raffle for games, keychains, and artwork by Kenji Watanabe!




No discussion topic this time, but we had a lot of fun stuff to talk about this time.


We finish with some questions from the audience.




You can support With the Will on Patreon or Paypal and chat with us on Discord!



Marc can be found at With the Will. I'll be at Anime Expo 2019 (July 3rd thru 7th), if you see me say hi! I'll have WtW stickers with me.

A.R. can be found at Digimon: System Restore. A.R. will be at Kitsunekon 2019. (July 12th thru 14th.)

May can be found at LostinTranslationmon.


The podcast audio is the livestream clipped out, with an intro and outtro added, along with some tweaking to try and improve audio quality.


This episode was recorded on June 28th, 2019.


Questions for future episodes can be sent to podcast@withthewill.net.


We can be found on iTunes, Google Podcasts, and most podcasting apps (feel free to suggest one if you don't see us there.)


Just below is a Youtube embed of the full livestream:


Let us know what you think of the image overlays for the news.


Thanks

We appreciate you guys listening and your feedback. Let us know what you think about the newest episode.

Big thanks to our Patreon supporters: Fly, Steve, Nkenna, Steven, Marcos, Jacob, Yan, Timo, Ken, tofumon, CF, Julia, Jennifer, Timothy, Joe, and Lizmet.



Our intro and outtro song is 'Version Up', sung by Umi Tenjin in character as Koushiro from Digimon Adventure.

The site, logo, custom art, and HTML5 player was made by lost.