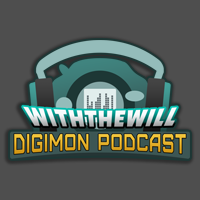 00:00:00
This time we have quite a bit of fun news, owing to the first wave of big Digimon Adventure 20th things announced. Plus we have a more serious discussion regarding the accusations of inappropriate conduct by, and from, Digimon-related actors.


We have this more serious discussion prior to the news and cover all the major Digimon related actors it's come up around recently. Due to the time and format of the show we realistically only scratched the surface on it. There are various potential articles to read on the subject, but a good place to start if you wish to read more after the podcast is some written thoughts from our own AR Pulver.



News
New Digimon Encounters Trailer
The Savers Agumon statue was removed from the Toei Animation Museum temporarily! but it's already back!
Wiz has closed. Wiz was the company that created/developed Digimon and Tamagotchi.

Summer Friends -Miracle in Winter- Event Updates. All attendees will get a gift from Director Kakudou!
Hypnos Meeting 2019 Event in March. A number of notable Digimon related guests will be at this special event.
Digimon D-Arts & Figuarts For Sale at Akiba Showroom Limited stock for these, and they've been selling out.
GEM Figure Updates-Close up photo of Omegamon from AmiAmi and figures on display at Wonder Festival 2019 Winter.
Stuffed Collection Mochimon at Wonder Festival 2019 Winter
Ultimate Image Omegamon Merciful Mode Figure Delay & More Pre-orders
Battle Spirits Mini Playmat at Premium Bandai

Digivices at Gamestop in July? For $20.
Digimon Figural Keyrings Review and Images

UK Digimon Season 1 DVD Collection/Scans, Breakdown, and Overview
Various Digimon DVDs Out Of Print- Tamers, Frontier, and Data Squad

Frontier Blu-ray Cover Art plus a fan vote for best episode!

Frontier Blu-ray Internal Art- 1st digistack and 2nd digistack

A few updates for Frontier Blu-ray store exclusives- Fairymon/Shutmon Poster, Lineart Tote Bag, and the acrylic keychains.


Info from April V-Jump- Survive Updates, Image corner, plus Neo's Copymon passcode.
Farewell Message from Producer Seki Hiromi to Toshiko Fujita- Touching and informative.

DigiFes 2019 Announced! DigiFes is back July 28th at it's biggest venue ever.
Toei USA Shows off Anniversaries
Adventure 20th Memorial Image! It's just about time for the 20th Anniversary to kick into gear, and we get a great memorial image, plus a few anniversary events!

Adventure 20th Event in Digimon ReArise! Adventure story elements and characters will appear in ReArise. Plus Tentomon for everyone!
Village Vanguard has announced a stack of Digimon Adventure 20th products featuring new sprite artwork!
GraffArt has announced a stack of Digimon Adventure 20th products featuring some fantastic chalk style circus art!


We finish with some questions from the audience.




You can support With the Will on Patreon or Paypal and chat with us on Discord!



Marc can be found at With the Will.

A.R. can be found at Digimon: System Restore.

May can be found at LostinTranslationmon.


The podcast audio is the livestream clipped out, with an intro and outtro added, along with some tweaking to try and improve audio quality.


This episode was recorded on February 23rd, 2019.


Questions for future episodes can be sent to podcast@withthewill.net.


We can be found on iTunes, Google Podcasts, and most podcasting apps (feel free to suggest one if you don't see us there.)


Just below is a Youtube embed of the full livestream:


Let us know what you think of the image overlays for the news.


Thanks

We appreciate you guys listening and your feedback. Let us know what you think about the newest episode.

Big thanks to our Patreon supporters: CF, Fly, Jacob, Jennifer, Joe, Julia, Ken, Lizmet, Marcos, Nkenna, nskiver, Steve, Steven, Taylor, Timo, Timothy, and Yan!



Our intro and outtro song is 'Version Up', sung by Umi Tenjin in character as Koushiro from Digimon Adventure.

The site, logo, custom art, and HTML5 player was made by lost.