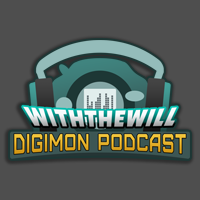 00:00:00
After a delay of a few days due to the recent California fires, the new episode has a wide range of topics to discuss, from the Digital Monster X, to figures, to even a bit of Pokemon and American comics. We also have a great discussion about what we hope to see in 2019 from Digimon.

Due to network issues this episode has some audio issues, especially early on. Some of these were fixed a bit for the audio only version of the show.

News

A bit of pseudo off topic news. We discuss the recent passing of Stan Lee, along with the trailer reveal for the Detective Pikachu movie and what it might mean for Digimon.

Digital Monster X Training & Raising Features
Proper art of Diablomon X and Sakuyamon X! We also got to see early artwork of them.
Damemon & Tsuwamon Info for Digital Monster X! Plus the return of Tokomon X!

They've been showing off a bunch of Digimon artwork and profiles for characters in the Digital Monster X!
Batch 1, Batch 2, Batch 3, and Batch 4

And MonMon Memo showed us the full lineup for the new V-Pet!

CSA Digivice 1999 Packaging Preview
A few small Digimon ReArise updates! Pumpmon's VA plus a new shikishi contest.
A lot of clean images and profile details for Digimon Encounters!

Battle Spirits Digimon Tamers Tournament Events Announced
Battle Spirits Digimon Tamers Cards & Art!- The Tamers Card set has some fantastic artwork.

Digimon Adventure Added to list of Anime Pilgrimage Sites in 2019
Mamoru Hosoda Reddit AMA
Ayumi Miyazaki Christmas Concert Cruise!
Adventure Escape Room Product Updates

tri. Part 6 and Complete Collection out in US soon!
UK & Australia Home Video Updates! tri. Part 5 is out in Australia, the UK finally gets Frontier & a Seasons 1 thru 4 collection, plus the UK covers for the tri. collection and tri. Part 6!

Digivolving Spirits Previews! Bandai and Digimon staff teased the Tamashii Nation display the night before..., HolyAngemon and BlackWarGreymon Packaging on Display for the first time with a new shikishi, plus our best look at HolyAngemon!

The Capsule Mascot Collection Expands with it's new name... Art Figurations!
The Ultimate Image Omegamon Merciful Mode Figure is up for pre-order!
Kenji Watanabe discusses the creation of Omegamon Merciful Mode





Our main topic for the episode is discussing what we want and hope to see from Digimon in 2019. We discuss everything we can think of on the subject.


We also have a great selection of questions, both sent in ahead of time and live during the show.

A.R. also discusses the tri. fanzine he's a part of that's up for pre-order right now, dandan



You can support With the Will on Patreon and chat with us on Discord!


Marc can be found at With the Will.

A.R. can be found at Digimon: System Restore.

May can be found at LostinTranslationmon.


The podcast audio is the livestream clipped out, with an intro and outtro added, along with some tweaking to try and improve audio quality.


This episode was recorded on November 12th, 2018.


Questions for future episodes can be sent to podcast@withthewill.net.


We can be found on iTunes, Google Podcasts, and most podcasting apps (feel free to suggest one if you don't see us there.)


Just below is a Youtube embed of the full livestream:


Let us know what you think of the image overlays for the news.


Thanks

We appreciate you guys listening and your feedback. Let us know what you think about the newest episode.

Big thanks to our Patreon supporters: Fly, Jacob, Yan, Marcos, Steven, Ken, Timo, Taylor, Lizmet, nskiver, Jennifer, Timothy, Julia, Joe, Nkenna, and CF.



Our intro and outtro song is 'Version Up', sung by Umi Tenjin in character as Koushiro from Digimon Adventure.

The site, logo, custom art, and HTML5 player was made by lost.