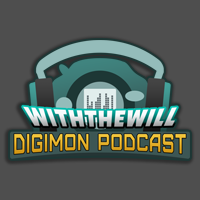 00:00:00
We talk about all the recent news, discuss Digimon Survive and it's connection to Adventure, and talk about the tri. Part 6 dub in-depth!


News
Chapters 3 and 4 of Digimon Chronicle X
Digital Monster X Pre-Orders at Premium Bandai USA! No intermediary needed!
November V-Jump had a few Digital Monster X details!
More Digimon in the Digital Monster X, plus CSA Digivice 1999 Booklet Details from MonMon Memo!
Digital Monster X Gameplay Info!- Map System Info plus Battle System Info

Digimon Encounters on iOS in November in China
ReArise Updates- Story and VA Updates, Lots of Lopmon
Digimon Links is 1 Year Old!
More Survive Details from Extended Famitsu Interview

Digivolving Spirits 06 AtlurKabuterimon- Breakdown, Scans, and Photos
Digivolving Spirits 08 BlackWarGreymon!- Premium Bandai pre-orders, Affordable US Pre-orders!, and our first look at the box artwork by Kenji Watanabe!
Capsule Mascot Collection Series 6 in January! Featuring Centarumon, Unimon, Drimogemon, Giromon, and Andromon.
Capsule Mascot Collection Premium Series 1 Details, Images, and Pre-Orders! BlitzGreymon, Meramon, and Airdramon! Plus a few pre-existing figures!

Michihiko Ohta Benefit Concert in November

Artwork from Naoki Akamine! The Appmon and Hacker's Memory manga artist let us post a bunch of his Digimon artwork!

Battle Spirits Digimon Tamers Booster Updates! https://withthewill.net/threads/20875 plus previews of a few more cards from a promo poster!
Adventure us Featured in a few 2019 Toei Calendars
Digimon Adventure Escape Room is open! Various details and details about the products and prices for the Escape Room.
A Digimon Adventure Halloween Pop-Up Shop is Open! There are a bunch of great products on sale there!
Digimon Seasons 1 thru 4 Gone from Crunchyroll & iTunes. Coincidental timing, or are things afoot?



tri. Part 6 Future & Collection Home Video Details! Not to mention a trailer and commercials! And the tri. Collection is up for pre-order!
UK tri. Complete Collection Packaging



Our main topic for the episode was actually talking about the tri. Part 6 dub, which was in theater a few weeks ago. We discuss our thoughts on the dub, some changes made, oddities, the theater experience, everything!

The dub is also being discussed on WtW right here.


We spend a few minutes talking about Halloween and then take some great questions from the live audience!





You can support With the Will on Patreon and chat with us on Discord!


Marc can be found at With the Will.

A.R. can be found at Digimon: System Restore. His additional commentary about the tri. Part 6 dub can be found here.

May can be found at LostinTranslationmon.


The podcast audio is the livestream clipped out, with an intro and outtro added, along with some tweaking to try and improve audio quality.


This episode was recorded on October 13th, 2018.


Questions for future episodes can be sent to podcast@withthewill.net.


We can be found on iTunes, Google Podcasts, and most podcasting apps (feel free to suggest one if you don't see us there.)


Just below is a Youtube embed of the full livestream:


Let us know what you think of the image overlays for the news.


Thanks

We appreciate you guys listening and your feedback. Let us know what you think about the newest episode.

Big thanks to our Patreon supporters: Fly, Jacob, Yan, Marcos, Steven, Ken, Timo, Taylor, Lizmet, nskiver, Jennifer, Timothy, Julia, Joe, Nkenna, and CF.



Our intro and outtro song is 'Version Up', sung by Umi Tenjin in character as Koushiro from Digimon Adventure.

The site, logo, custom art, and HTML5 player was made by lost.