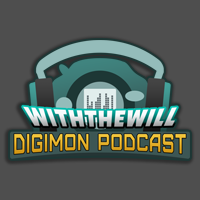 00:00:00
We talk about the new Digital Monster X V-Pets, all the other recent product news, and discuss the non Digimon stuff we do!


News
Toy and Game Livestream Updates- The toy and game livestream actually had a decent amount of information. It's included throughout the episode.
Winner of X-Antibody Fan Vote- Minervamon and RhodoKnightmon won the fan vote and we got a look at their new artwork!
Digital Monster X- The newest Digimon V-Pet is available to pre-order and has some interesting touches to it.
Digimon Chronicle X Chapter 2 comic- Chronicle X is getting a comic by a familiar face.
Sistermon Ciel Updates- Sistermon Ciel has gotten a number of changes to differentiate her from Noir. You can also use her in the 20th Pendulums!

Digimon Season 1 Available to Watch on Starz
UK Tamers DVD Cover- Out September 14th

3rd Battle Spirits Digimon Booster is Card Slash! Out November 24th!
Better Images of Capsule Mascot Collection Series 4 Figures- The newest Digimon gashapon are out this month.
Digivolving Spirits AtlurKabuterimon is out! We have a preview with transformation details and a second preview that includes a few small gifts from Tamashii!
Digivolving Spirits 08 is BlackWarGreymon- Pre-orders open September 21st at Premium Bandai

Wada Kouji Memorial Live Concert Event Products Available to Order- Only until September 18th!
Ayumi Miyazaki Concert in November

Digimon Survive and ReArise will be at the Tokyo Game Show 2018
More Digimon Survive Details! Later they expanded those details! And there was an interview with the producers in Famitsu.

We also got a few Digimon ReArise updates from the livestream. There will be a Halloween event with Pumpmon!

Changes to Adventure Twitter Accounts- We get a new staff Twitter and a name change for the official Twitter account. Plus an escape room related puzzle!
US tri. Part 6 Pre-Orders Open! It's out December 4th. And we are just a few days away from it in theaters!
An Omegamon Merciful Mode figure has been announced! Pre-orders in October!



After the news we discuss our lives outside of Digimon. What are our jobs? What do we enjoy doing? And what have we been doing lately?





You can support With the Will on Patreon and chat with us on Discord!


Marc can be found at With the Will.

A.R. can be found at Digimon: System Restore.

May can be found at LostinTranslationmon.


The podcast audio is the livestream clipped out, with an intro and outtro added, along with some tweaking to try and improve audio quality.


This episode was recorded on September 15th, 2018.


Questions for future episodes can be sent to podcast@withthewill.net.


We can be found on iTunes, Google Podcasts, and most podcasting apps (feel free to suggest one if you don't see us there.)


Just below is a Youtube embed of the full livestream:


Let us know what you think of the image overlays for the news.


Thanks

We appreciate you guys listening and your feedback. Let us know what you think about the newest episode.

Big thanks to our Patreon supporters: Fly, Jacob, Yan, Marcos, Steven, Ken, Timo, Lizmet, Jennifer, Timothy, Julia, nskiver, Joe, Rydan, CF, Nkenna, and Taylor.



Our intro and outtro song is 'Version Up', sung by Umi Tenjin in character as Koushiro from Digimon Adventure.

The site, logo, custom art, and HTML5 player was made by lost.