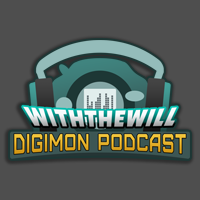 00:00:00
In this episode we go over the various bits of news from the last month. There's news on a wide range of things, including upcoming products, not to mention the reveal of the 20th Anniversary of Digimon Adventure logo. We also go over the recent kerfluffle with director Kakudou quitting from the new Digimon project.


News
Pre-orders for Various Digimon Products- Various items from the recent pop-up shops are up for pre-order.
Even more product re-releases! The Digimon Reboot Omegamon model kit in September, Battle Spirits 1.5 is restocked right now, a few more products previous from the pop-up shops, plus the high end tri. posters from Toei.
20th Pendulum Wave 2 Pre-Order Date, Plus Exclusive Digimon- Pre-orders open June 28th! Plus Darkdramon and Jesmon X-Antibody!
Capsule Mascot Collection Series 3 Figures in Color! We finally get a good look at these before their release in July!
Digivolving Spirits Preview from V-Jump. Alphamon is out in July!
Tamers Plush Crane Game Prizes in July- Two series of Tamers plushes will be in Namco and Sega arcade crane games on July 28th.
DigiColle Series 3 Rerelease Pre-Orders Open and it's out in September
Small Updates- Watanabe drawings, a Links survey, and behind the scenes of making the WarGreymon GEM figure

ReArise Campaigns, Papercrafts, New Character Intro- More shikishi giveaways that have ended, there was a fan vote which was won by V-mon, and since there has been 250,000 pre-registrations, he will be given away to players. Plus a Koromon papercraft and a Pusurimon papercraft!
New ReArise Trailer, Story Info, and Character Details. Plus ReArise in V-Jump with info on another character.
Habu Teases a New Digimon Game- It's not Story or World and it's a 'different concept.'
Logo for the Wada Kouji Memorial Live Concert Event- More tickets will be available in a week.

Data Squad Coming to DVD in Australia Again on September 5th
Blu-ray and DVD Covers for tri. Part 5 in the UK and tri. Part 4 in Australia

tri. Part 6 Theatrical Run Ends after 6 Weeks- Mini-Theater Rankng Info, Week 5 Thread, and Week 6 Thread
tri. Part 6 is Out on Blu-ray! Breakdown, Scans, Screencaps, Sales, and Discussions!

New Postcards at tri. Part 6 Collaboration Event at King of System Karaoke
Images and Details for Megane Ichiba tri. Glasses Line- 8 frame choices, over 30 different lenses that don't increase price. 16,200 yen on August 1st. Images of them on display

Digimon Guests at Anisong Summer Friends 2 Event! Yuto Kazama (Yamato in Adventure and 02), Aoi Tada (Terriermon in 02 and Tamers plus Lopmon in Tamers), and Michihiko Oota. July 29th in Odaiba
First Guests Announced for Digimon Thanksgiving, Plus Ticket Details- Chika Sakamoto (Agumon), Mayumi Yamguchi (Gabumon), Natsuki Hanae (Taichi), Yoshimasa Hosoya (Yamato), Ayumi Miyazaki, and AiM
tri. at Anime Expo 2018- A panel with director Ryan Johnston, Joshua Seth (Tai), Colleen O'Shaughnessey (Sora), and Johnny Yong Bosch (T.K.) and a signing at Toei's booth. Plus Shout will have tri. Part 5 on sale early!

First look at Digimon Adventure 20th Anniversary Logo



Rather than a full topic, we go over the recent news of director Kakudou (Adventure, 02, X-Evolution) announcing his resignation from the new Digimon project in a bit more detail. Prior to him announcing his resignation we weren't even aware he was working on it.




You can support With the Will on Patreon and chat with us on Discord!


Marc can be found at With the Will.

A.R. can be found at Digimon: System Restore. A.R. will be hosting a panel at Kitsunekon in July! If you want to see his livetweets of his wife watching tri. Part 6, you can find them here.

May can be found at LostinTranslationmon. If you want to see why May isn't in this episode you can see it here. Her Ordinemon joke regarding her fall can also be seen here.



The podcast audio is the livestream clipped out, with an intro and outtro added, along with some tweaking to try and improve audio quality.


This episode was recorded on June 23rd, 2018.


Questions for future episodes can be sent to podcast@withthewill.net.


We can be found on iTunes, Google Podcasts, and most podcasting apps (feel free to suggest one if you don't see us there.)


Just below is a Youtube embed of the full livestream:


Let us know what you think of the image overlays for the news.


Thanks

We appreciate you guys listening and your feedback. Let us know what you think about the newest episode.

Big thanks to our Patreon supporters: Jacob, Fly, Steven, Will, Marcos, Yan, nskiver, Timo, Ken, CF, Haniff, Rydan, Julia, Jennifer, Timothy, Joe, and Lizmet.



Our intro and outtro song is 'Version Up', sung by Umi Tenjin in character as Koushiro from Digimon Adventure.

The site, logo, custom art, and HTML5 player was made by lost.