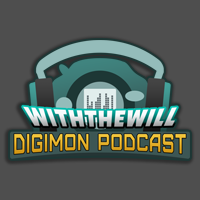 00:00:00
Digimon Adventure tri. Part 6 is out! This episode we talk about our thoughts on the final part of tri.! It was announced almost 4 years ago, we found out details of it's release 3 years ago, and it took almost 2 and a half years from beginning to end! How do we feel about the end of this part of the franchise?


News
New Digimon Project Announced!- Announced at an early screening with Motonaga and Watanabe, on Twitter, and at the end of every tri. part 6 screening. Something new is coming, but what?
tri. Part 6 Theater Updates- They finally announced the souvenir booklet, but some updates on tri. theater version Blu-rays. Plus a few tri. marathons happened in the duple to tri.


Scans/Breakdown of Butter-Fly -tri. Version- (tri. Part 6 ED, Normal Version)- The newest version of Butter-Fly is the final ED for tri.! We've scanned and broken down the release.
New Premium Bandai Products!- Towels, Jackets, Pendants on necklaces and chokers, plus an Omegamon Merciful Mode Watch!

Returning Products- DigiColle 2 Re-Release, Pre-Orders May 9th. Plus the Art Visual Collection Returns with a few updates.
Digivolving Spirits Updates- AtlurKabuterimon Packaging preview, plus some Kakudou and Watanabe related updates. 2 weeks until Angewomon is out!
Battle Spirits Art!- More card images plus a good look at Merciful Mode!
Battle Spirits Events Announced- There will be events to teach you how to play if you are new, and tournaments for more advanced players.

ReArise Updates- Pre-registrations on app stores have begun, plus the game is out this summer! We also have details to get a ReArise wallpaper and Bandai mad some cute art.
Details Announced for Wada Kouji Memorial Live Concert- The lineup is crazy for this.

Hasbro Bought Assets from Saban- Does this have any real affect on Digimon fans? Well, we didn't do a news topic, so you can likely guess.

Contest Winners- Digimon Adventure tri. Part 4 Loss Blu-rays- Aguchamp, Applifang, and Tabitha won! Check out their entries.
Digimon Adventure tri. Part 4 Blu-ray- Breakdown, Scans, Overview- A breakdown of the new tri. Blu-ray from the UK!
tri. Part 4 in Australia on August 15th- Australia finally gets an update!
tri. Part 5 in US theaters on Thursday! Only on May 10th at 7:30pm, check local theaters!




After we discuss tri. Part 6 and the news, we jump into tri. Part 6 related questions from the audience!



You can support With the Will on Patreon and chat with us on Discord!


Marc can be found at With the Will.

A.R. can be found at Digimon: System Restore.

May can be found at LostinTranslationmon.



The podcast audio is the livestream clipped out, with an intro and outtro added, along with some tweaking to try and improve audio quality.


This episode was recorded on May 5th, 2018.


Questions for future episodes can be sent to podcast@withthewill.net.


We can be found on iTunes, Google Play, and most podcasting apps (feel free to suggest one if you don't see us there.)


Just below is a Youtube embed of the full livestream:


Let us know what you think of the image overlays for the news.


Thanks

We appreciate you guys listening and your feedback. Let us know what you think about the newest episode.

Big thanks to our Patreon supporters: Jacob, Fly, Steven, Will, Marcos, Yan, Robert, nskiver, Timo, Ken, CF, Haniff, Rydan, Julia, Jennifer, Timothy, Joe, and Lizmet



Our intro and outtro song is 'Version Up', sung by Umi Tenjin in character as Koushiro from Digimon Adventure.

The site, logo, custom art, and HTML5 player was made by lost.