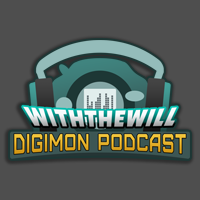 00:00:00
Less than a week until tri. Part 6 is out! Marc and May go over all the recent news, including a bunch of tri. events, in the lead up to the finale of tri. Plus a discussion about Digivolving Spirits!

AR isn't around for this episode, he will be back next time.


News
Are Digimon Funko Pops Coming?
A lifesize Gabumon Plush has been announced! Pre-orders are open!
Digivice Rubber Keychains! Pre-orders open now, out in August!
Exclusive Adventure Products at Village Vanguard- Shirts and tote bags
Adventure Ichiban Kuji Plushes! It's an online gashapon basically.
Various previews of Battle Spirits cards including: Better images of the promo poster with Merciful Mode, tri. Ultimates and 02 Jogress in V-Jump, Agumon, Gabumon, and Omegamon, plus the beginning of a wave of high quality card images!

Mona Marshall Explains How She Created Izzy's Voice!
Digimon Tabletop RPG Show One-Off Announced!

Digimon Adventure tri. Part 4 Loss is out in the US! UK release in a few days!
Contest- Digimon Adventure tri. Part 4 Loss Blu-ray Combo Packs. Ends tomorrow!

Mobile Game Updates- The player characters in ReArise and Merciful Mode is in Linkz!
Wada Kouji Memorial Live Concert Announced for August

tri. Part 6 Tokuban was yesterday! There was a preview of Part 6, plus more cast drawings!
Adventure Marathon to Celebrate tri. Part 6 on nico
tri. Stage Play DVD Talk & Meet Event Happened.
Tasting Menu at tri. Music Cafe in Ani-On Station Final Party!
Bikkuriman Stickers
tri. Part 6 Twitter Campaigns from Namco and Toei
CSA Digivice tri. Memorial Pre-Orders Open! Pre-orders close June 23rd and it ships in October!

tri. Part 6 Theater Gift Images! Postcards and shikishis! Plus an Ordinemon card!
tri. Part 6 at the Shinjuku Wald 9! Another Cafe! Plus products on display!
tri. Glasses! Out August 1st and reasonably priced!
More Products at Fifth tri. Pop-Up Shop! Plus even more products, using early tri. artwork!
tri. Magazine Special- To celebrate the end of tri. a special magazine is being released with a bunch of info and interviews.
tri. Freak's Store Collaboration Products! Shirts, straps, and a nice shoulder bag.

tri. Part 6 At King of System Karaoke Details! Themed menu, packs, and products!
Early tri. Screening with Director Keitaro Motonaga and Kenji Watanabe
Day 1 tri. Part 6 Screenings with cast guests! The guests are: Yoshimasa Hosoya (Yamato), Mayumi Yamaguchi (Gabumon), Suzuko Mimori (Sora), Mutsumi Tamura (Koushiro), Hitomi Yoshida (Mimi), Junya Ikeda (Jou), and Miho Arakawa (Meiko.)

Week 2 tri. Part 6 Screenings with cast guests! The guests are: Natsuki Hanae (Taichi), Yoshimasa Hosoya (Yamato), Chika Sakamoto (Agumon), and Mayumi Yamaguchi (Gabumon.)

Digivolving Spirits AtlurKabuterimon is up to pre-order! Plus 3 weeks until Angewomon is out!



Our topic this week is discussing everything Digivolving Spirits, almost a year to the day the line was announced! How do we feel about the figures so far? What do we expect to see? Hope to see?


We also take a few questions from the audience!




You can support With the Will on Patreon and chat with us on Discord!


Marc can be found at With the Will.

A.R. can be found at Digimon: System Restore.

May can be found at LostinTranslationmon. You can find the Digivolving Spirits photo she mentioned Twitter.



The podcast audio is the livestream clipped out, with an intro and outtro added, along with some tweaking to try and improve audio quality.


This episode was recorded on April 28th, 2018.


Questions for future episodes can be sent to podcast@withthewill.net.


We can be found on iTunes, Google Play, and most podcasting apps (feel free to suggest one if you don't see us there.)


Just below is a Youtube embed of the full livestream:


Let us know what you think of the image overlays for the news.


Thanks

We appreciate you guys listening and your feedback. Let us know what you think about the newest episode.

Big thanks to our Patreon supporters: Jacob, Fly, Steven, Will, Marcos, Yan, Robert, nskiver, Timo, Ken, CF, Haniff, Rydan, Julia, Jennifer, Timothy, Joe, Lizmet



Our intro and outtro song is 'Version Up', sung by Umi Tenjin in character as Koushiro from Digimon Adventure.

The site, logo, custom art, and HTML5 player was made by lost.