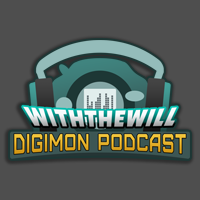 00:00:00
This episode of the podcast is nearly all Digimon Adventure tri. since Part 4 came out!

We go over Digimon Adventure tri. Part 4 in detail, our thoughts on it, and go over what little we know of Part 5 so far.

We also go over a bunch of Digimon Adventure tri. news and tri. questions you guys have for us!

Digimon Adventure tri. News
Digimon Adventure tri. Part 5 title and poster
tri. Part 4 Commercial
tri. Part 4 in V-Jump
The most recent tri. Tokuban
Tracklist for the upcoming Character Song Albums
Interviews with the tri. cast!
Atsuya Uki drawn gifts for those who see tri. Part 4 in theaters
Our scans and product breakdown of Keep On -tri. version- (CD Version) and (CD/DVD Version)
The lifesize Meicoomon plush
More pop-up shop details
The menu for the Ani-On Digimon Music Cafe, along with exclusive products
Digimon returns to the King of System karaoke chain
Tons of stuff on sale in theaters showing tri. Part 4


After the news we finish up with tri. questions listeners sent in.



This episode was recorded on February 27, 2017.

Questions for future episodes can be sent to [email protected].


We can be found on iTunes, Google Play, and most podcasting apps (feel free to suggest one if you don't see us there.)


Just below is a Youtube embed for those who like to listen to podcasts via Youtube:



Thanks

We appreciate you guys listening and your feedback. Let us know what you think about the newest episode.

Our intro and outtro song is 'Version Up', sung by Umi Tenjin in character as Koushiro from Digimon Adventure.

The site, logo, custom art, and HTML5 player was made by lost.