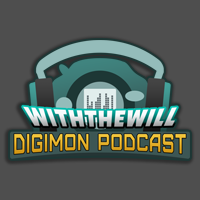 00:00:00
In this episode, Victor and Marc go over the recently released game, Digimon World: Next Order for the Playstation 4.

Is this newest Digimon video game worth your time and money? Most importantly, what does it do right, wrong, and is it fun to play?

In addition to the topic, we have the pre-DIgimon Adventure tri. Part 4 ocean of news!

Appmon News
Appmon DVD Info
I Am, Ami Wajima's Album featuring Appmon ED
New Appmon Action Figures


Digimon News
Various Magazine Art for both Appmon and tri.
Butter-Fly ranks in the NHK Anime Song Poll
Taichi and Greymon GEM Figure in Color
Zubamon's Evolutions and Agumon in the Appmon DCD Game
2nd tri. Part 4 Tokuban
tri. part 4 Preview Screenings (Spoilers!)
The tri. Part 3 digest
tri. Parts 1 thru 3 Screening Event
tri. part 4 Theater Gifts
Mimori Suzuko's Radio Show, tri. Special
tri. part 4 Cast Interviews
AiM Meet and Greet
Lifesize Meicoomon Plush
Wald 9 10th Anniversary Mug
Really fancy tri. Part 4 poster
Blu-ray and DVD Details for tri. Part 4
Butter-Fly T-Shirts
tri. Products at Kiddy Land
Digimon Adventure tri. Music Cafe
Details for the new tri. Pop-Up Shop!
And a second location!

Details for the USA Blu-ray and DVD of Digimon Adventure tri. Part 1!
The UK release has been delayed again.


After the news and our topic we answer questions, and then finish up by going over a ton of new Digimon products that are coming out soon.


This episode was recorded on February 19, 2017.

Questions for future episodes can be sent to podcast@withthewill.net.


We can be found on iTunes, Google Play, and most podcasting apps (feel free to suggest one if you don't see us there.)


Just below is a Youtube embed for those who like to listen to podcasts via Youtube:



Thanks

We appreciate the feedback after episode 1. We tried some new things to make the audio sound better. Let us know what you think about the tweaked audio, and anythign we discussed in the episode.

Our intro and outtro song is 'Version Up', sung by Umi Tenjin in character as Koushiro from Digimon Adventure.

The site, logo, custom art, and HTML5 player was made by lost.