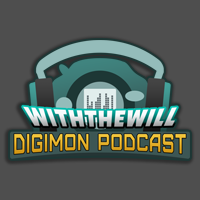 00:00:00
It's time to discuss Digimon Adventure tri. Part 5!

After a good discussion about the newest release of Digimon Adventure tri. Marc and AR continue on with the news while May has to step out.



News
German tri. Part 1 Blu-ray Steelbook Scans
Scans and Breakdown for tri. Part 5's ED, Aikotoba Type A, Type B, Type C, and Type D
Our Patreon and Discord!

The End of Appmon!
Poster for tri. Part 6- Our Future
Digimon Adventure tri. Part 5 is out!

English Trailer for Digimon Links
Preview of the Cover for Volume 2 of the Appmon manga
Miho Arakawa was on Mimori Suzuko's radio show

Look at all the Products being sold in Theaters showing tri. Part 5!
The theater gifts for Week 3 of tri. Part 5's run
Partner Plush Costume Keychains at Kiddy Land!
Amazon Exclusive tri. Part 5 Cloth Poster
tri. Returns to the King of System Karaoke chain with drinks, food, products, and a song contest
A few more products at the 4th tri. Pop-Up Shop

Arkadimon Details for Hacker's Memory, and 3DS themes for tri. Part 1 and Part 5
Pre-Orders are open for the lifesize Tailmon Plush!
Pre-Orders are open for Premium Art Series Product 4- Duralumin iPhone 7/8 Cases

There was a new Tokuban!
Digivolving Spirits Previews- MetalGarurumon Box and Design Documents from Figure King
GEM Siblings Figures in Color
Tamers Blu-ray Box Preview!- Cover Lineart, Staff list for the new audio drama, and they showed off episode 1!


After the news we swing back to tri. Part 5 and go over some questions from the audience about it in detail!



You can support us on Patreon and chat with us on Discord!



Marc can be found at With the Will.

A.R. can be found at Digimon: System Restore.

May can be found at LostinTranslationmon.



The podcast audio is the livestream clipped out.


This episode was recorded on October 1st, 2017.


Questions for future episodes can be sent to [email protected].


We can be found on iTunes, Google Play, and most podcasting apps (feel free to suggest one if you don't see us there.)


Just below is a Youtube embed of the full livestream:


Let us know what you think of the image overlays for the news.


Thanks

We appreciate you guys listening and your feedback. Let us know what you think about the newest episode.

Our intro and outtro song is 'Version Up', sung by Umi Tenjin in character as Koushiro from Digimon Adventure.

The site, logo, custom art, and HTML5 player was made by lost.