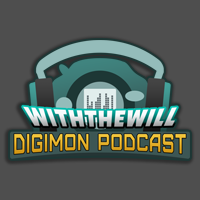 00:00:00
This week Marc, A.R., and May discuss all the news from the most recent Tokuban.

There were a bunch of fun news, including some of the cutest Digimon art in recent memory.



News
Translated Kenji Watanabe Interview

Zag Toys Digimon Plushes Available Out of Blind Boxes in September
Digimon in October V-Jump: Raguelmon & Lifesize Tailmon Details
Big Agumon and Tailmon Crane Plush Prizes in September
D-1 Grand Prix Has Ended and WtW Member MrBoot Won! 2nd D-1 Hinted At

Battle Spirits Card Game Images-Packaging, Agumon and Evos and Other Adventure Partners
Battle Spirits Tournaments Announced
Premium Art Series Product 3- Glow in the Dark Fabric Boards

Results of Digimon Fan Questionnaire Plus Cast Answers
Ayumi Miyazaki Live in November
Butter-Fly Music Library Available Outside of DigiFes

tri. Stage Play DVD Pre-Orders Open- 2 DVDs and Amazon Version
tri. Part 4 Digest Version Released

tri. Part 5 Tokuban! Images and Info, 1st 5 Minutes of tri. Part 5
tri. Part 5 Preview Screenings Are Over!
tri. Part 5 Theater Gifts Announced!
tri. Part 5 ED, Aikotoba-Coverart, Tracklist, and Preview
tri. Part 5 Home Video Extras Announced

2nd tri. Music Cafe- Jou and Koushiro Key Art
2nd tri. Music Cafe- Details, Menu Part 1, & Exclusive Products
4th tri. Pop-Up Shop Announced
tri. Returns to King of System Karaoke Stores
New Namco Twitter Campaign and Crane Game Music Cafe Prizes
2nd Kiddy Land Store Collaboration- Info, Locations, & Products
2nd tri. Part 5 Tokuban Announced

Preview of Appmon Art in October Animedia
Appmon Rental DVD 7 Cover
Appmon Manga Ended and Volume 2 will be released in October, Pre-Orders Open



After the news we talk about the amazing Appmon Characters Songs.


After discussing the songs we answer a pair of very interesting questions from fans.



Marc can be found at With the Will.

A.R. can be found at Digimon: System Restore.

May can be found at LostinTranslationmon.



The podcast audio is the livestream clipped out.


This episode was recorded on September 2nd, 2017.


Questions for future episodes can be sent to podcast@withthewill.net.


We can be found on iTunes, Google Play, and most podcasting apps (feel free to suggest one if you don't see us there.)


Just below is a Youtube embed of the full livestream:


Let us know what you think of the image overlays for the news.


Thanks

We appreciate you guys listening and your feedback. Let us know what you think about the newest episode.

Our intro and outtro song is 'Version Up', sung by Umi Tenjin in character as Koushiro from Digimon Adventure.

The site, logo, custom art, and HTML5 player was made by lost.