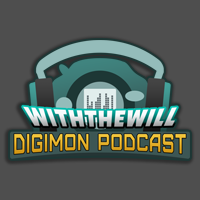 00:00:00
Marc and AR begin the news and May was able to join shortly into the episode.

Lots of news this episode, but nothing huge, lots of little fun things though.

In addition as a fun mini-topic we discuss Agumon's recent appearance on Appmon for the 20th Anniversary of the franchise.


News
Perfect World, Appmon ED4, Breakdown and Scans
Appmon Character Songs and OST, Breakdown and Scans

18 Years since Digimon Premiered in English
New Digimon Shirts at Hot Topic

tri. Part 2 Out in the USA!
tri. Part 2 UK Packaging Image
UK tri. Part 3 Pre-Orders

Digimon Game Community Opens
Hacker's Memory Updates plus even more Hacker's Memory
Figuarts Imperialdramon Paladin Mode Limited Lotto at Premium Bandai
20th Anniversary Card Set, Card List, and DigiFes Versions of 20th DigiColle Set
Super Groupies Digimon Products
3rd I Love Tailmon Plush Crane Prize

tri. Fancy Dress Clothes Products Releases
tri. Stage Play Digest Video
Final 2 Showings of tri. Stage Play were Livestreamed
tri. Stage Play Exhibition

More Character Art from 2nd tri. Music Cafe
Hosoya Returns from Hiatus
tri. Part 5 Theater Version Blu-ray Cover
tri. Part 5 Early Screenings Announced, with Guests
New Tokuban with Guests!
Frontier Streaming Marathon



After the news we discussed the recent big awesome fun thing as a mini-topic, Agumon appearing on Appmon!


After the mini topic we go over a number of questions, a few of which get some fantastic spirited discussions going on about the franchise.


Marc can be found at With the Will.

A.R. can be found at Digimon: System Restore.

May can be found at LostinTranslationmon.



The podcast audio is the livestream clipped out.


This episode was recorded on August 19th, 2017.


Questions for future episodes can be sent to podcast@withthewill.net.


We can be found on iTunes, Google Play, and most podcasting apps (feel free to suggest one if you don't see us there.)


Just below is a Youtube embed of the full livestream:


Let us know what you think of the image overlays for the news.


Thanks

We appreciate you guys listening and your feedback. Let us know what you think about the newest episode.

Our intro and outtro song is 'Version Up', sung by Umi Tenjin in character as Koushiro from Digimon Adventure.

The site, logo, custom art, and HTML5 player was made by lost.