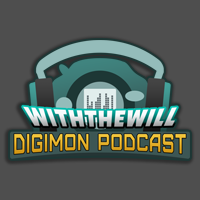 00:00:00
A.R. Pulver returns as our new permanent co-host. May was nursing a scotch in bed due to her voice being out, so she unfortunately could not make it this time.

There was a ton of news for this episode, including a stack of exciting news from the yearly DigiFes event. We thought there was a lot of news playing catchup from a month in the last episode... this episode we had almost as much just from two weeks!


News

Coupon for 20th Anniversary Wave 2 V-Pets
Appmon DVD-Box 2- Breakdown, Scans, & Screencaps
Digimon Domez SDCC Review and Images
tri. Part 2 Blu-ray/DVD Review and Images

Hacker's Memory Chart and Digimon Game Community Site
20th Anniversary Artbook Details & Pre-Orders
20th Anniversary Card Set Updates
Tailmon Gloves, Coin Cases, and Returning Products
Digivolving Spirits MetalGarurumon Pre-Orders and Diablomon is Next

DigiFes 2017!
New GEM Figures- Adventure Siblings
New tri. Part 5 Trailer and Blu-ray/DVD Cover
tri. Part 5 Ending Theme Details and Pre-Orders
Digimon Tamers Blu-ray Box Announced for Early 2018, Pre-Orders Open

tri. Music Cafe Returns in 2 Locations

tri. Stage Play News
Trailer, Special Events, Photos and Clips (Also throughout)
Vamdemon Returns & Exclusive Products
Animedia Art
Rehearsal Images
And the stage play has begun! And a DVD has been announced!

Odaiba Memorial 2017

GEM Dukemon Crimson Mode Pre-Orders Open
NXEdge Dukemon Figure on Display

Preview of Appmon Art from September Animedia
Appmon Rental DVD 6
Appmon Gakuen Manga Ending

Next Week on Appmon... AGUMON!




This week we spent an extended period of time answering various questions, a few with quite detailed answers. Spread throughout is discussion of HBO, Netflix, Voltron, old adventure games, old anime games that probably should have never been...



A.R. can be found at his Digimon website, Digimon: System Restore

During the episode A.R. mentioned an Odaiba Memorial version of Keep On made by fans, it's been embedded just below.




May can be found at her Digimon podcast, LostinTranslationmon and resting in bed.



The podcast audio is the livestream clipped out.


This episode was recorded on August 5th, 2017.


Questions for future episodes can be sent to podcast@withthewill.net.


We can be found on iTunes, Google Play, and most podcasting apps (feel free to suggest one if you don't see us there.)


Just below is a Youtube embed of the full livestream:


Let us know what you think of the image overlays for the news.


Thanks

We appreciate you guys listening and your feedback. Let us know what you think about the newest episode.

Our intro and outtro song is 'Version Up', sung by Umi Tenjin in character as Koushiro from Digimon Adventure.

The site, logo, custom art, and HTML5 player was made by lost.