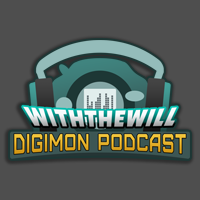 00:00:00
The two guest hosts with the most return! May and A.R. Pulver!

Marc, May, and AR play a game of catchup going over all the Digimon news from the last month so that there is a clean slate before DigiFes next week. And there was a ton of news in the last month. From early tri. to an unexpected Appmon announcement... there is probably something here no matter what Digimon stuff you enjoy!


News
Digimon is 20 years old! and there was a livestream
New Official Twitter Account & 20th Anniversary Artbook!
Various Digimon ties and tieclips are back
20th V-Pet Wave 2 Details and Pre-Order Info and the D-1 Prize
20th Anniversary Card Set Details
Duralumin Card Cases

Products and Photos for the 20th Anniversary Pop-Up Shop

GEM Dukemon Crimson Mode in January
Images of Digivolving Spirits Angewomon & release details for MetalGarurumon
Various Updates for Hacker's Memory
Digimon will be appearing in the card game Battle Spirits

New tri. Rubber Straps in September
tri. Part 5 Trailer and Blu-ray & DVD Details
Tons of products at DigiFes! Part 1, Part 2 & CD Details, Part 3

tri. Stage Play Cast in Costume, Video Comments, Cast Interviews
tri. Stage Play Digimon! Etemon costume & Tentomon/Palmon Puppets

tri. & Appmon Art from August Animedia

New Appmon Key Art & Hacker's Memory Badges at Jump Victory Carnival
The Appmon manga is ending
New Appmon Data Carddass Cards and Appmon Chips are coming
Appliarise Action Gaiamon figure!
Ami Wajima is on Hiatus
Appmon Character Song Previews & OST Tracklist
Cover Art & Finalized Details for the release of Appmon ED4- Perfect WOrld
Agumon is going to be in Appmon!
Appmon DVD-Box 2- Breakdown, Scans, & Screencaps

Digimon the Movie in Entertainment Weekly
tri. Part 1 is out in Australia and Frontier is coming in October
tri. Part 2 out in the UK in November & Cover Art Preview
Digimon Fusion airing on TV in the UK

Digimon at Anime Expo 2017 plus some minor SDCC discussion. Plus AR discusses his big Digimon panel at Kitsune Kon!
tri. Part 2 US Release- Review, Images, Breakdown, etc. and don't forget to check out the review of tri. Part 2 that AR did also!
Review and Images of SDCC Exclusive Digimon Domez Set and tri. BD/DVDs at SDCC



No main topic this week since we had so much news to go over.



May can be found at her Digimon podcast, LostinTranslationmon

A.R. can be found at his Digimon website, Digimon: System Restore



The podcast audio is the livestream clipped out.


This episode was recorded on July 22, 2017.


Questions for future episodes can be sent to podcast@withthewill.net.


We can be found on iTunes, Google Play, and most podcasting apps (feel free to suggest one if you don't see us there.)


Just below is a Youtube embed of the full livestream:


Let us know what you think of the image overlays for the news.


Thanks

We appreciate you guys listening and your feedback. Let us know what you think about the newest episode.

Our intro and outtro song is 'Version Up', sung by Umi Tenjin in character as Koushiro from Digimon Adventure.

The site, logo, custom art, and HTML5 player was made by lost.