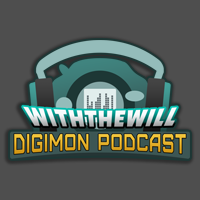 00:00:00
We have two guest hosts this week! May is back and at the last minute A.R. Pulver was able to join us to discuss some exciting news!

We go over all the news from the last few weeks, and spend a huge chunk of time gushing over some exciting news that will probably drain our collective bank accounts.


News
Scans/Breakdown of Gatchen! Normal and Limited Editions

Appmon Character Songs & Soundtrack Announced for July
tri. & Appmon art from July Animedia

Digimon Adventure tri. part 5 Info! Old Digimon movies streaming before a new trailer!
Adventure (tri.?) Cases and Holders Coming Soon
The Patamon Hat Returns!
tri. Stage Play Update- Female Cast, Ensemble, & Director

US Pre-Orders Available for Digivolving Spirits WarGreymon
Squishable Koromon Preview and Additional Details

tri. Part 4 screening at Anime Expo! Q&A & Signing with Joshua Seth, Colleen O'Shaughnessey, & Jeff Nimoy! tri. Part 2 BD/DVD on sale early

V-Jump August Issue! tri. info, New 20th Anniversary card set. D-1 and Hacker's Memory Update... plus a 20th Anniversary Pop-Up shop featuring all of the Digimon anime!



We had no main topic this episode. We talked about collecting and our Digimon collections, what else we do other than Digimon, and whatever came up while discussing those, including taking questions from the audience!



May can be found at her Digimon podcast, LostinTranslationmon, and there are some photos those who listened to the podcast will likely be interested in:
May's faithful dog and her Digimon PC Buddies
New Photos of May's extensive Digimon collection



A.R. also has neat stuff worth looking at including the conventions he will have panels at:
His Website
Kitsunekon in Green Bay
Geek.Kon in Madison



The podcast audio is the livestream clipped out.


This episode was recorded on June 17, 2017.


Questions for future episodes can be sent to podcast@withthewill.net.


We can be found on iTunes, Google Play, and most podcasting apps (feel free to suggest one if you don't see us there.)


Just below is a Youtube embed of the full livestream:


Let us know what you think of the image overlays for the news.


Thanks

We appreciate you guys listening and your feedback. Let us know what you think about the newest episode.

Our intro and outtro song is 'Version Up', sung by Umi Tenjin in character as Koushiro from Digimon Adventure.

The site, logo, custom art, and HTML5 player was made by lost.