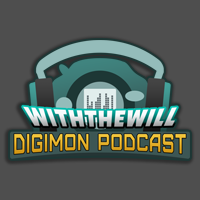 00:00:00
Victor being out and about has been extended for awhile, so the guest host this week is A.R. Pulver.

A.R. talks about his Digimon blog, doing panel conventions, his interest in the franchise at large, and then we move into the news!


Recent Site Stuff
UK Contest Winners!
UK tri. Part 1 is out! Scans and Overview

News
Premium Bandai America is open
MegaHobby Expo 2017 Spring is this weekend! Premium Bandai is restocking some items
New Rubber Straps

Appmon ED4 Announced- Perfect World by Traffic Light
More Appmon DataCarddass Series 4 Details

V-Jump Stuff!

New Hacker's Memory Details- Domination Battles and Various Character Updates

20th Anniversary V-Pet 2nd Wave Updates
Digivolving Spirits- Release Date, Price, First Full Images, Upcoming Livestream

tri. Stage Play Details- Partial Cast, Synopsis, First Visual



And then we discuss the main topic for the episode. Digimon Adventure tri. Part 1 is out on Blu-ray and DVD in the USA!

During (and after) that we discuss tons of thoughts on the franchise. Where it's been, where it is, where we hope it goes, and we answer a stack of questions from people who were at the livestream.


For those who want to see A.R. Pulver's stuff that he discussed during the episode:
His Website
Kitsunekon in Green Bay
Geek.Kon in Madison




The podcast audio is the livestream clipped out.


This episode was recorded on May 23, 2017.

Questions for future episodes can be sent to podcast@withthewill.net.


We can be found on iTunes, Google Play, and most podcasting apps (feel free to suggest one if you don't see us there.)


Just below is a Youtube embed of the full livestream:


Let us know what you think of the image overlays for the news.


Thanks

We appreciate you guys listening and your feedback. Let us know what you think about the newest episode.

Our intro and outtro song is 'Version Up', sung by Umi Tenjin in character as Koushiro from Digimon Adventure.

The site, logo, custom art, and HTML5 player was made by lost.